In photos: Controlled burn of Kenilworth race track
The track is home to pristine critically endangered Cape Flats Sand Fynbos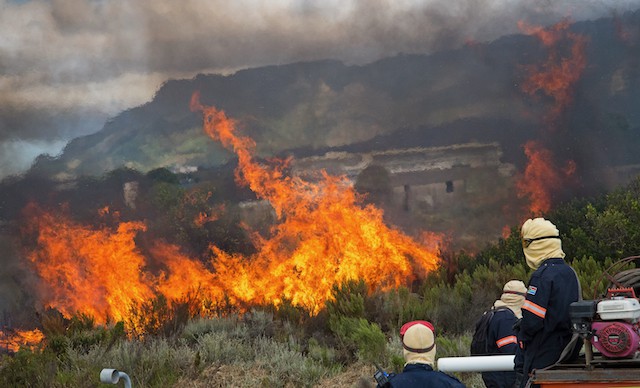 To the untrained eye, the scrubby vegetation in the centre of the track at the Kenilworth racecourse looks like nothing to get excited about, yet this 52-hectare patch of land may be the most valuable real estate in the City of Cape Town in terms of biodiversity.
Relative to size – or pound-for-pound as they say in boxing parlance – it's unmatched by conserved areas of natural vegetation in the city and possibly by similar areas anywhere else in the world.

The Kenilworth Racecourse Conservation Area (KRCA) is owned by Kenilworth Racing (Pty) Ltd but is managed in terms of a 2006 agreement by the City of Cape Town's environmental management department and CapeNature.
It hosts an astounding 283 indigenous plant species, of which 20 are endangered and two are endemic. Most of this unique vegetation type — Cape Flats Sand Fynbos — has disappeared beneath urban development.
Two species of erica listed as extinct in the wild were reintroduced to this conservation area in 2005 from plant cuttings cultivated in botanical gardens. Botanists and conservationists are hoping that both Erica verticillata and Erica turgida will now regenerate sufficiently to be taken off the "Extinct in the wild" list.
A seasonal wetland in the conservation area is home to the critically endangered endemic micro frog, with this population being the last of its kind on the Cape Flats. There are also small but healthy populations of several other amphibian, reptile, bird and mammal species.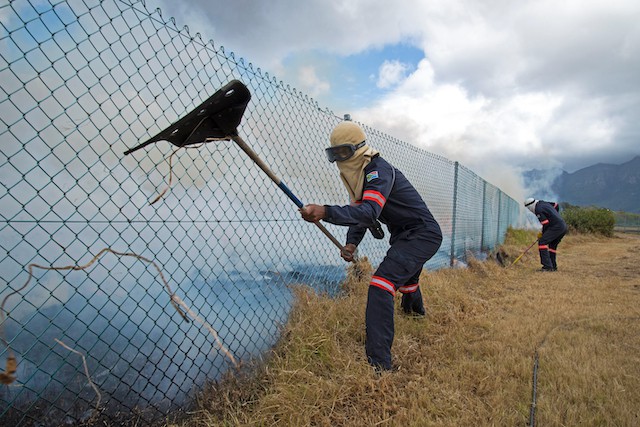 The racecourse was laid out in 1882, and because of its location within the centre of the track, most of what is now the conservation area remained undisturbed and unexposed to fire for more than 100 years, before being identified as a core botanical site and established as a conservation area in 1985.
Because fynbos is a fire-dependent ecosystem, many of its species will become increasingly senescent (deteriotating because of age) without exposure to fire, eventually leading to local extinctions.
So now fire in the form of prescribed burns (also called ecological burns) is applied at biologically determined intervals to restore and maintain the conservation area's fynbos as a naturally functioning ecosystem.
Last week, close to 20 hectares of veld in the conservation area that had last been exposed to fire 16 years ago was successfully burnt during a five-hour operation led by the environmental management department and including the City's Fire and Rescue Service and partners like Working for Water.
The City is hoping to conduct a further nine controlled ecological burns at its nature reserves and conservation areas over the next six weeks or so, ranging in size from 1.5ha to more than 50ha in size – if the weather co-operates.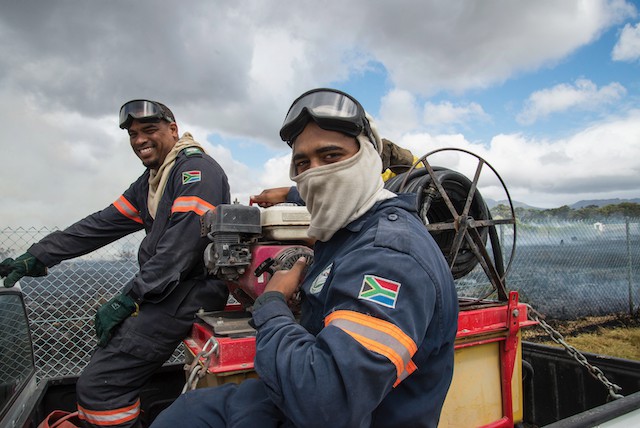 Dodgy people are suing us. Please support us by contributing to our legal costs and helping us to publish news that matters.
© 2021 GroundUp. This article is licensed under a Creative Commons Attribution-NoDerivatives 4.0 International License.
You may republish this article, so long as you credit the authors and GroundUp, and do not change the text. Please include a link back to the original article.
We put an invisible pixel in the article so that we can count traffic to republishers. All analytics tools are solely on our servers. We do not give our logs to any third party. Logs are deleted after two weeks. We do not use any IP address identifying information except to count regional traffic. We are solely interested in counting hits, not tracking users. If you republish, please do not delete the invisible pixel.