Sentence hearing for Angy Peter begins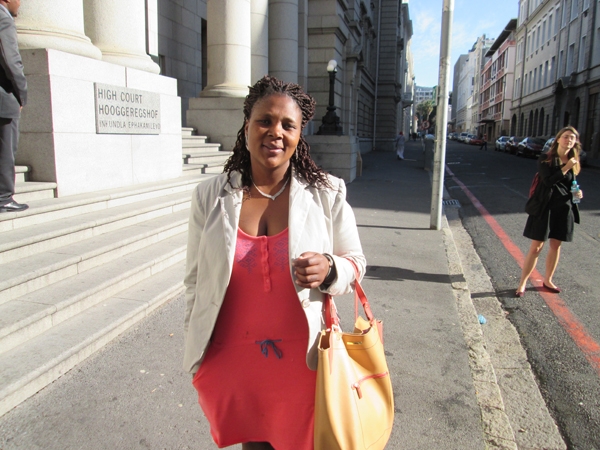 This week, witnesses began testifying in the sentencing hearing of Angy Peter, Isaac Mbadu, Azola Dayimani and Christopher Dina.
The four were found guilty last month of murdering and kidnapping Rowan du Preez, who was was found dead in October 2012 by Mfuleni police. He had been necklaced. Peter was one of the leaders of the Social Justice Coalition at the time and involved in a campaign for better community policing, including the call for an inquiry into policing in Khayelitsha, which eventually resulted in the recently completed O'Regan and Pikoli Commission of Inquiry.
The state, which is calling for imprisonment, called social worker Cynthia Klaasen to the stand. Klaasen said a suspended sentence or correctional supervision for Peter and her husband Mbadu. would be inappropriate.
During cross-examination defence counsel William King asked Klaasen about the fate of Peter's and Mbadu's four children. King said that separating them from their parents serving time in jail would be like sentencing the children too.
Klaasen responded that the children would suffer because of the bad choice of their parents. She acknowledged that incarcerating parents had negative impacts on children.
Klaasen said that the person currently looking after the children had two children of her own and could not cope with Peter's and Mbadu's children for the long term. Klaasen said other options, such as splitting them among relatives, could also be considered, even though that would also have an impact on them.
State prosecutor advocate Phistus Pelesa said, "We're dealing with people who understood how criminal justice work".
On Tuesday, Social Justice Coalition general secretary Phumeza Mlungwana, testifying in mitigation of sentence, described Peter as the link between the community and the criminal justice system. She said Peter encouraged people to report crime instead of taking the law into their own hands. Mlungwana attributed the launch of the Mfuleni branch of the SJC to Peter. It was in that branch that Peter had met du Preez.
Mlungwana said both Peter and Mbadu had tried to rehabilitate Du Preez. She said, "They brought him to a number of SJC meetings."
She described Peter and Mbadu as a loving couple who cared for their children.
Mlungwana said Mbadu was passionate about educating the community about their rights. She said the community had lost because of their arrest and the the Mfuleni branch of SJC had collapsed.
The defence lawyer for accused number three and four, Mduduzi Ndlovu, also brought character witnesses for Azola Dayimani and Christopher Dina. Noncedo Marawu said her son Dayimani was supporting his grandfather who had become mentally disturbed after Dayimani's conviction.
She said she could not afford to take care of Dayimani's four children.
Fezeka Dina said Christopher Dina was the provider and the family was struggling without his support.
The defence will bring other witnesses on Wednesday.
Dodgy people are suing us. Please support us by contributing to our legal costs and helping us to publish news that matters.
© 2016 GroundUp.
This article is licensed under a
Creative Commons Attribution-NoDerivatives 4.0 International License
.