Security workers protest in Boksburg over unpaid wages
"It's amazing what politicians promise just to get our votes" says union leader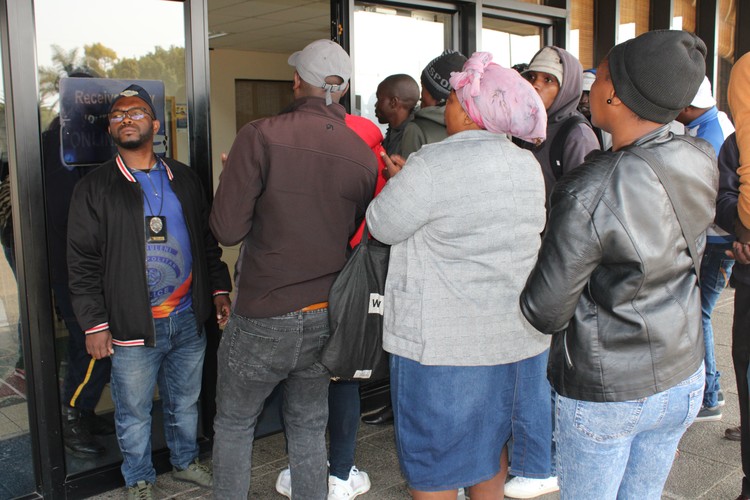 About 40 security workers, supported by the United Private Sector Workers Union, protested at the entrance to the City of Ekurhuleni offices in Boksburg on Wednesday.
The union claims that over 1,000 security guards are still waiting for wages outstanding since March to be paid.
They were employed by private companies contracted to the City of Ekurhuleni. These companies' contracts ended in June, though workers say their dispute over unpaid wages has been going on for years.
Security workers formerly employed by private companies contracted to the City of Ekurhuleni shut down the Boksburg Civic Centre on Wednesday, demanding that outstanding salaries be paid immediately.
About 40 security guards protested at the entrance to the City offices, preventing people from entering or leaving the building. According to the United Private Sector Workers Union (UPSWU) about 1,000 workers are due outstanding wages. The union said about 800 of those workers had lost their jobs when the municipality's contracts with the former companies ended in June this year. New companies were hired, but only a few of the security guards were absorbed by TSS Security and Bravo Security.
For the past two weeks, security guards stationed at municipal sites in Germiston, Benoni, Daveyton, Brakpan, Benoni, Alberton and Boksburg have been protesting. Most of them had been employed by security companies Khayalami and Zabalaza. They claim these companies owe them wages for months.
In February this year, GroundUp reported on a protest by the security workers who said they had not received their wages for November and December. The union said the municipality and security companies were blaming each other. The municipality claimed not to owe the companies any money, while the companies claimed they had not been paid and therefore could not pay the workers. One of the companies told the union that the City owed it about R18-million.
While a few payments have been made to the security guards in early August following protests, they claim a large sum of money is yet to be paid to them.
"Our workers are being exploited by political parties who are promoting their own interests at the expense of poor people," said Raymond Tshamano from the United Private Sector Workers Union.
"A R2-billion budget was allocated for safety and security, but instead of insourcing our workers they fired the old companies, introduced new companies and fired our workers. It's amazing what politicians can promise just to get our votes," Tshamano said.
GroundUp has not been able to contact all the security companies for comment by the time of publication. We did manage to speak to the chairperson of Bravo Span Security Ben Matlala. This company absorbed some of the employees that had worked for one of the previous security companies.
"Bravo had the right to employ its own people. As far as payments are concerned, the issue should be taken up with old employers as this does not concern us. The old security companies should pay their staff what they are due as contracts have ended," Matlala said.
City of Ekurhuleni spokesperson Zweli Dlamini, said it is the responsibility of the companies to ensure that their workers are paid. He confirmed that the security company contracts had ended. "The companies are appointed for three years. These companies are aware of this and should plan accordingly for their employees. Those workers are exploited and should protest on the premises of their employer and not at City offices," Dlamini said, adding that the City had made no promises to insource the guards.
© 2023 GroundUp. This article is licensed under a Creative Commons Attribution-NoDerivatives 4.0 International License.
You may republish this article, so long as you credit the authors and GroundUp, and do not change the text. Please include a link back to the original article.
We put an invisible pixel in the article so that we can count traffic to republishers. All analytics tools are solely on our servers. We do not give our logs to any third party. Logs are deleted after two weeks. We do not use any IP address identifying information except to count regional traffic. We are solely interested in counting hits, not tracking users. If you republish, please do not delete the invisible pixel.