Security guards accused of bribery
Social grant recipients say they have to pay to get to front of queue.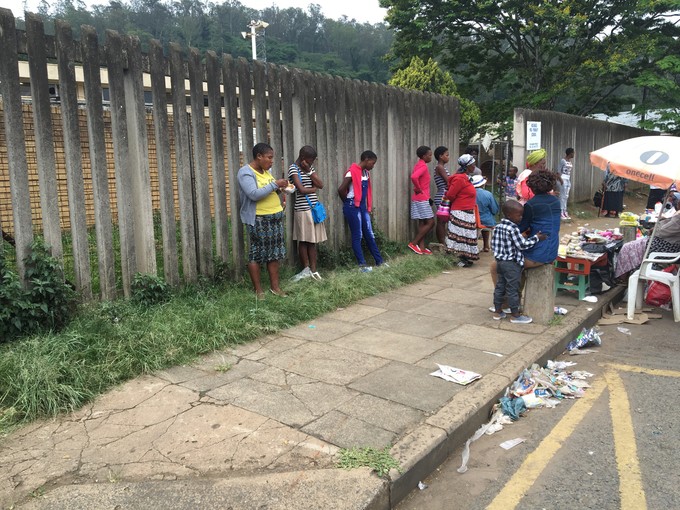 As early as 3am in the morning, hundreds of people from Pietermaritzburg and beyond queue at the AF Wood Centre in Boom Street. There is a South African Social Security Agency (SASSA) paypoint here, and most of the people in the queue are usually collecting their R1,420 monthly older person's grant and R860 foster child grants.
Betha Cele is 62 years old. She has travelled 53km from Elandskop. She says the taxi fares cost her R36, which is more than 2% of her grant. She is frustrated though because she typically has to return a couple of times before being able to collect her grant. She alleges that the reason for this is that the security guards, who work for Fidelity, demand a R20 bribe. She can not afford to pay it, so those who do are pushed ahead of her in the queue.
By paying the "fee" those in the queue can get closer to the front and be served quicker than those who do not.
"Although I arrive at the centre very early, this doesn't help. I come for my grant because I already have no money," says Cele.
She says she borrows the money for transport from her neighbors and therefore does not have money to bribe the guards.
"Many of us wake up as early as possible. We know how long the queue can be. So for us to try and avoid being at the tail of the queue, we wake up very early. But that doesn't help at all. People who have money to bribe are the ones that are catered for. They come at any time and they are attended the minute they come to the centre," says Cele.
She says "our concerns" have been raised, "but no one has listened to us." She also accuses workers inside the centre of being in cahoots with the guards.
"We don't know that much, but [we know] what they are doing is illegal," says foster care beneficiary Lindiwe Majozi. She depends on the foster grant to look after her three grandchildren.
"I spent R22 taxi fare coming to town and I have to come back the next day because I don't have the money to bribe with. We are appealing to SASSA to intervene. We are tired of this corruption that is going on," says Majozi.
Fidelity Security Group Marketing and Communications Manager Daniel Moxham said his company is unaware of the incidents. He committed to investigating the allegations.
Sassa spokesperson Vusi Mahaye also said the state agency will investigate the matter. "We will send our team to go and monitor the situation at that pay point. We were not aware [that this has been going on]," said Mahaye.
Dodgy people are suing us. Please support us by contributing to our legal costs and helping us to publish news that matters.
© 2016 GroundUp.

This article is licensed under a Creative Commons Attribution-NoDerivatives 4.0 International License.