School boarders develop their own online kiosk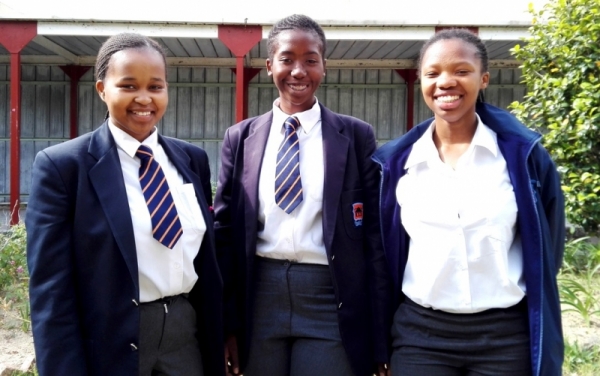 Three students from the Cape Academy of Maths, Science and Technology have set up an online kiosk for boarders who struggle to access basic necessities while in residences at schools.
Using coding skills they developed during the course of a year-long project known as Code for Cape Town, Kukhanya Fudumele, Zenande Nurunessa Mantlana and Babalwa Dumane, all aged 16, created PRESS (Pursuing Realistic Environmental Social Services).
"We decided to open an online kiosk which runs on a points system. The learners open an account on our website and buy points either weekly or monthly; this allows them to always have a positive balance to purchase essentials at any time," says Fudumele.
"One of the problems that boarders have is not being able to go to the shops during the week. For various reasons, we could only go on Fridays. PRESS is really convenient, because it has assisted a lot of us when we need things urgently like stationery, toiletries and airtime," says Lwandokazi Mbotshelwa, a 17-year-old boarder and PRESS customer.
"We sell products in small quantities at affordable prices. We then provide a free delivery service to the learners' rooms. The school tuckshop closes too early and doesn't sell stationary or sanitary products. PRESS is always open - which is why our project is a winner," says Fudumele.
According to Fudumele, boarders who could go to the local Shoprite on weekdays faced transport costs.
"We also didn't feel safe, because we had to cross the field opposite the school to catch a taxi. The taxis wouldn't pick us up from outside the school gates," said Dumane.
"PRESS aims to bridge the gap of inequality, so we will have learners work for us and their time of work will be converted into points which will automatically be added to their account. This allows learners not to feel trapped when they don't have money to purchase an item," said Fudumele.
The three innovators won a R10,000 prize for PRESS at Innovate the Cape's final showcase on 31 October. The annual competition seeks to encourage learners to submit ideas that solve a problem in their community.
Referring to the prize money, Fudumele said, "We are considering branching out to hostels in other schools once we've fixed the pros and cons at our school. We also consider saving the money in a bank account."
The Innovate the Cape showcase took place at Bandwidth Barn in the Woodstock Exchange. Eight teams presented solutions around gardening, energy, careers and health. Each of the finalist teams received mentorship and R5,000 in seed funding to develop a prototype. PRESS kiosk will continue to be mentored by Kendra Wilson, a fourth year medical student.
Find out more about: PRESS and Innovate South Africa.
© 2016 GroundUp.
This article is licensed under a
Creative Commons Attribution-NoDerivatives 4.0 International License
.