SA students in UK call for government intervention in university crisis
"We hope that the statement will be taken to the South African government, President and Minister of Higher Education."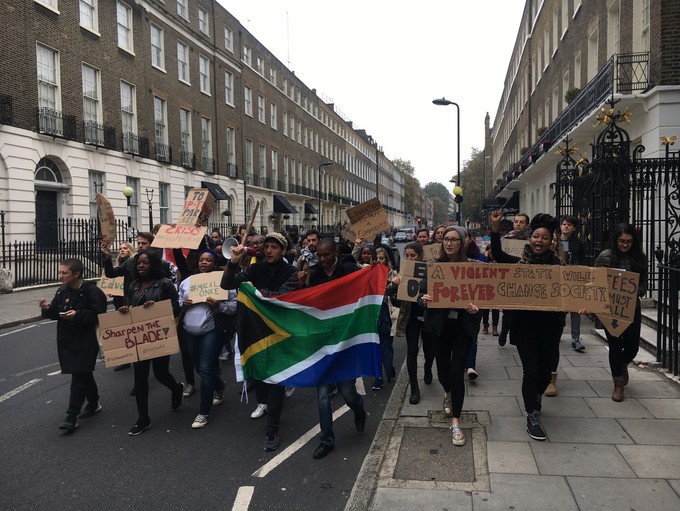 South African students studying in the United Kingdom (UK) protested in solidarity with the Fees Must Fall movement earlier today, demanding that the state "engage meaningfully and humbly with student protestors" and "find practical solutions for a way forward which addresses the underlying issues in Higher Education".
The group of approximately fifty marched from the School of Oriental and African Studies (SOAS) through central London to the South African High Commission in Trafalgar Square where they handed over a statement to the South African High Commissioner, Obed Mlaba.
Spokesperson for the group, Kgotsi Chikane, who was arrested during a 2015 Fees Must Fall protests in Cape Town and is currently studying towards an MA in Public Policy at Oxford University, said that the protest was organised to draw international attention to police violence on South African university campuses as well as to demand constructive government engagement.
He said: "We want the international community to understand that it is not okay for the government to shoot at young people who are advocating for a way of bettering their futures. We want government to be serious about solving the crisis back at home by coming to the table in a meaningful way, not to discuss whether fees are feasible but to discuss how to implement free education for all."
When asked about his expectations for the protest's outcome, Wanga Guanbushe, a PhD student at SOAS said: "We hope that the statement will be taken to the South African government, President and Minister of Higher Education. We would like them to be aware that even though some of us are out of the country, what is going on inside the country affects us … We agree that fees have to fall and believe that there are enough resources for free quality higher education. We do not understand why the government is abdicating responsibility. They have stood aside and said that universities will sort this out."
Sibisiso Sgwane, who recently completed his studies at the University of Birmingham, joined the protest to "express his support for students back at home who cannot go to school because fees are too high." He also said that "government needs to show political will towards this issue and do something".
Written under the banner #WeStandwithFMF, the protestors' statement said that the "struggle for decolonial education [that is] accessible to all is just". It condemned the use of police and private security on campuses, while also acknowledging that the implications of not completing the academic year for students.
It concluded by calling on the government to "recognise the unique responsibility it holds to the people of South Africa, to engage meaningfully and humbly with student protestors, and to find practical solutions for a way forward which address underlying issues in Higher Education."
The South African High Commissioner was not given an opportunity by the protesters to respond publicly. He told GroundUp afterwards that the statement will be forwarded to President Jacob Zuma and that any action taken will be "his decision, with his team".
© 2016 GroundUp.

This article is licensed under a Creative Commons Attribution-NoDerivatives 4.0 International License.
You may republish this article, so long as you credit the authors and GroundUp, and do not change the text. Please include a link back to the original article.