Rubbish piles up in East London informal settlement
Municipality claims rubbish is collected weekly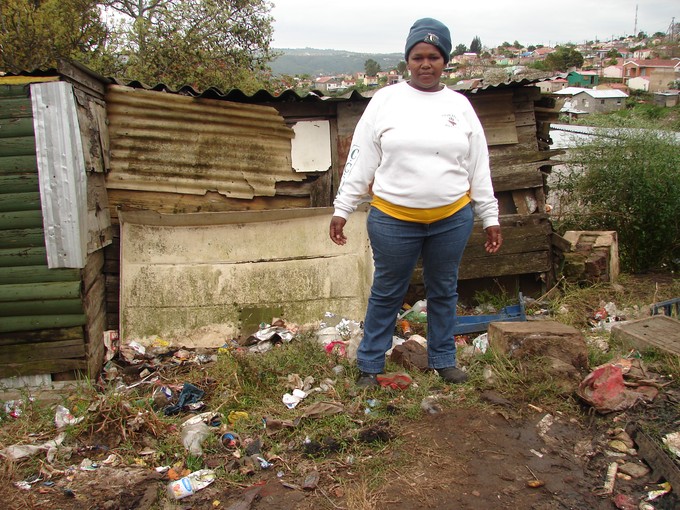 Residents of Cambridge informal settlement in East London say rubbish has not been collected in their area since the beginning of the year.
According to Buffalo City Metro Municipality spokesperson Sibusiso Cindi, refuse is collected once a week everywhere in the city, including Cambridge, and drop-off points have been set up by the municipality which were cleared on Thursdays in this area.
But residents say the municipality the container used for garbage was too small and fell over at the beginning of the year. The municipality removed it, they say, and since then there has been no garbage collection.
When GroundUp visited the area, garbage was piled up next to people's homes and drains in the area were overflowing. Some residents were burning their rubbish.
Thembisa Moyamo, who has lived in the informal settlement since 2000, said other residents dumped their garbage at the back of her house where there was an open space.
"On rainy days the house gets flooded with muddy water and we must deal with smelly drain water blockage almost every month. Our shack is situated right next to the toilet and tap used by the residents."
Asked to comment on the residents' complaints, Cindi said, "The Municipality has no knowledge about this. However, we will send our workers to go and have a look at it. If there's no container and the community needs one, we will then work with the community to put one there."
Dodgy people are suing us. Please support us by contributing to our legal costs and helping us to publish news that matters.
© 2016 GroundUp.

This article is licensed under a Creative Commons Attribution-NoDerivatives 4.0 International License.
You may republish this article, so long as you credit the authors and GroundUp, and do not change the text. Please include a link back to the original article.