Refugees join homeless for Christmas lunch event
Ladles of Love apologises to homeless as food runs out during event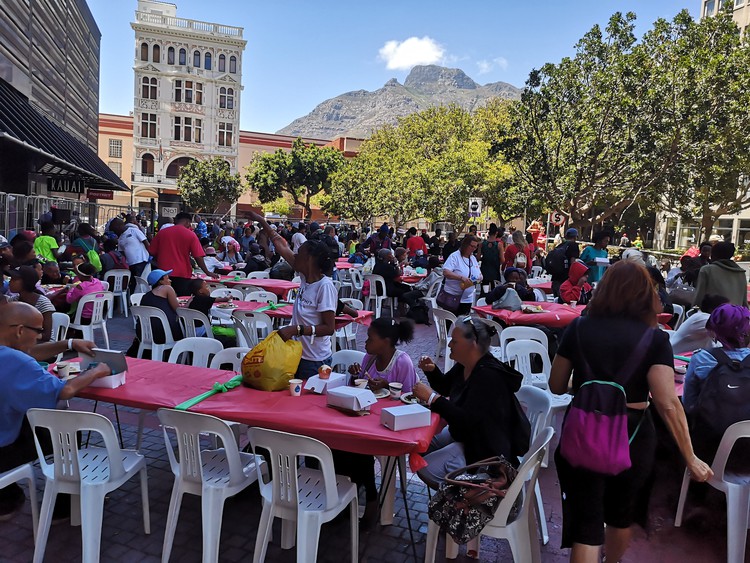 Chicken, pasta, potatoes and vegetables were served to more than 1,000 of Cape Town's homeless on Sunday. It was the 12th annual Christmas lunch hosted by Ladles of Love and the central Methodist church in the parking lot near Plein and Spin streets.
The parking lot was filled with tables and chairs, decorated with bright red table cloths and green ribbons. The event was a buzz as gift boxes with sweet treats were handed out and festive music got people off their chairs to dance.
Single mother of three, Juanita Titus, 30, from Blikkiesdorp, has been attending the event for the last three years. Titus said she planned to give the goodie bag she received to her son for his 13th birthday on 23 December. In order to feed her family, Titus said she rummages through dirt bins across the city centre and sleeps on the streets during the week. At the weekend, she returns home to Blikkiesdorp where her 16-year-old lives with the two younger children.
Andia Vena, 54, was among those who queuee for food in the heat. He told GroundUp that he didn't mind the long lines "as long as he gets something for his stomach". But before Vena and a dozen others reached the front, the food had run out.
In response, Danny Diliberto of Ladles of Love said, this year's event had been challenging as most of the displaced refugees who have been sleeping at the central Methodist church had also joined in. "It's unfortunate we ran out."
According to its website, the Ladles of Love project has to date provided about 340,000 meals to communities and schools across the city.
Dodgy people are suing us. Please support us by contributing to our legal costs and helping us to publish news that matters.