RDP homeowners and shack dwellers clash over electricity
Nkandla residents tried to remove connections from Endlovini informal settlement in Port Elizabeth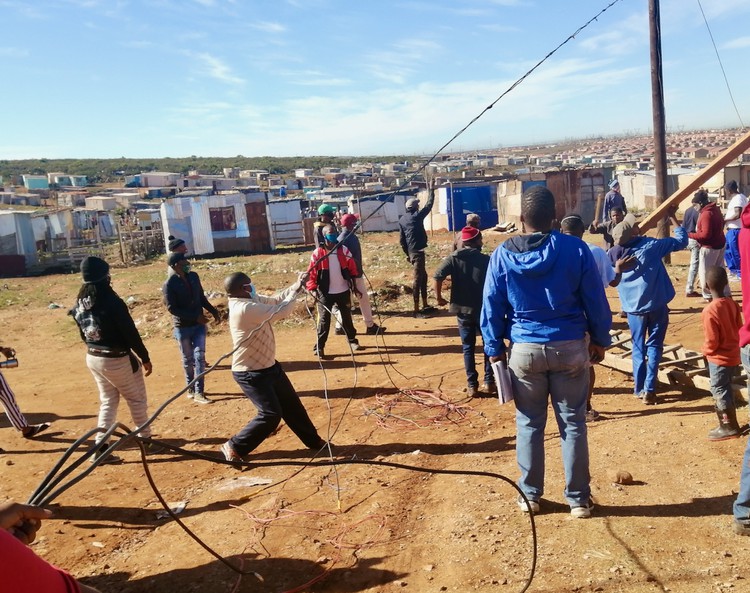 RDP home owners in Nkandla, Port Elizabeth, were confronted by shack dwellers when they tried to remove illegal electricity connections.
Informal settlement residents blame the municipality for failing to electrify their area.
Ward councillor says the area is too dense to electrify.
---
Tempers flared, fists flew and insults were hurled when RDP homeowners in Nkandla removed illegal connections made by residents of Endlovini informal settlement, Port Elizabeth, on Thursday morning.
Nkandla residents complain that the illegal connections (izinyoka) cause power outages and surges that damage their electrical appliances.
When Nkandla residents started to remove the izinyoka, Endlovini residents came out in numbers and grabbed their step ladder. Members on both sides carried hammers and sticks. Stones were thrown.
Nkandla residents ripped out izinyoka and burnt them at the nearby taxi rank. In retaliation, Endlovini residents demolished three shacks belonging to Nkandla RDP house owners.
Lerato Nyendwana, the owner of one of the shacks that was demolished, said, "I just bought this shack for R2,500 from one of the Nkandla community leaders and I moved in last Saturday … They stole my groceries and TV, and broke my bed."
Mphuthumi Makeleni, deputy chairperson of the Nkandla residents committee, said: "For two days we had no electricity. Another electric pole overloaded with izinyoka connections exploded … Municipal workers came and fixed the damaged pole. The electricity came back on Wednesday."
"On Wednesday afternoon we started to remove these illegal connections and we saw an improvement in the electric supply."
"In the past everything was going well because the first people who started Endlovini are our backyard dwellers and [our] over aged children. But now strangers from Uitenhage, New Brighton, Zwide and from all over the metro are bullying us in this area.
"We asked them nicely to connect from our houses not directly from the poles because that damages transformers and our electric appliances. We told them that we understand their situation and we have experience of it. We did it too before we got these houses but in a respectful manner," he said.
Phindile Mashalaba, chairperson of the Endlovini residents committee, said: "We did not come here to fight but to ask Nkandla residents to understand our pain that we are suffering without electricity … There is no need to fight against one another because our municipality [Nelson Mandela Bay] failed us."
"Our area is four years old. It has about 600 occupied shacks. All those households share four communal taps and 14 chemical toilets.
"Before [former mayor Mongameli ] Bobani stepped down, he promised us that there was R15 million allocated for the development of our area. Even the current leadership said that it was aware of that commitment … During the first council meeting this year we visited the municipality and we were promised that decision has not changed. But till today, we have not seen the service delivery."
But Ward 41 Councillor Simphiwe Tyukana (ANC) said: "I am not aware of any budget allocated for Endlovini. Any development that takes place in a ward starts with the ward councillor. It's him who submits the proposal and data of the houses that need electricity … I am not even aware of the meeting they claim they had with former mayor Bobani. In fact I never heard anything in a council meeting being discussed about Endlovini."
"There is no way electricity can be installed there because the area is overcrowded. It has … to be de-densified.
"The community leaders must also be honest and tell their people the truth and stop blaming me," he said.
Municipality spokesperson Mamela Ndamase said: "The City does have a programme of electrification of shacks. In the past financial year we spent more than R15 million on the electrifications of shacks programme. This financial year the City has budgeted R37.7 million for informal housing electrification to deal with the problem."
"We are aware of clashes caused by illegal electricity connections across the city. We continue to have a challenge of illegal connections in our municipality and it poses a challenge to residents living in formal houses as their appliances get damaged, but more concerning are the deaths [by accidental electrocution] that are caused by this crime," she said.