Rape Crisis picket at Khayelitsha court
Protesters demand proper facilities for sexual offences court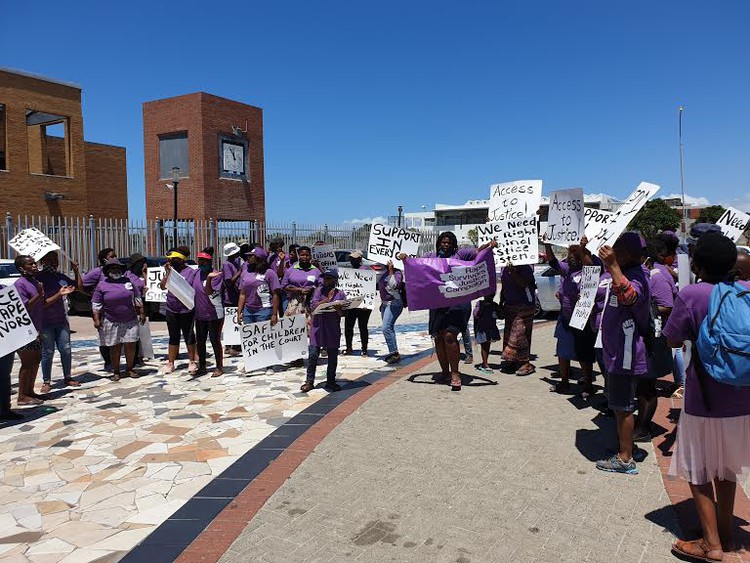 Members of the Rape Crisis' Rape Survivors Justice Campaign picketed outside the Khayelitsha Magistrates Court on Thursday.
They were demanding better facilities at the sexual offences court.
Court manager Velile Yayi promised there would be major progress by the end of February 2021.
---
The Rape Crisis' Rape Survivors Justice Campaign has vowed to take their fight to the Department of Justice if the sexual offences court at the Khayelitsha Magistrate's Court does not have proper facilities by the end of February next year.
About 40 picketers wearing purple T-shirts sang and danced outside the Khayelitsha court on Thursday, waving placards saying "Support in every court", "Safety for children in the court", and "Access to justice".
Last year a citizen-based monitoring report by Rape Crisis found that the Khayelitsha court did not cater adequately for rape survivors.
Mandisa Mbotshelwa, the campaign's advocacy coordinator, said: "We are here today demanding a proper sexual offences court, with proper infrastructure, where survivors of rape will experience secondary trauma less."
"So far the changes we have seen in this court are a new carpet in the waiting room, a new television, toys, and a door from the waiting room to the Childline office of the National Prosecuting Authority. But the court supporter is still a far walk away and there are still no separate toilets for survivors," said Mbotshelwa.
Picketer Siphokazi Mlawu from Strand told GroundUp that she herself was a rape survivor. "I was raped in 2002 in Strand by a man unknown to me. He had his face covered, he cornered me, stabbed me, raped me and left me for dead."
She said she had reported the attack to the police but had not had any feedback. "My case went nowhere and it hurts till this day. That is why it was important for me to be here today. I am going to do everything in my power to make sure that our children, our sisters, our mothers do not go through the same thing I went through," said Mlawu.
Signing the memorandum, court manager Velile Yayi said: "It is true that a proper sexual offences court has been a long time coming, but … because of Covid, things became dramatically slower."
"But we have made a promise that at least by February next year there will be major progress. We are also waiting for a mobile unit that will service the court with social workers and counsellors," said Yayi.
Mbotshelwa said if there was no progress by 1 March 2021, the campaign would go to the regional office of the Department of Justice. "We will continue to protest until things get done."
Asked to comment on Mlawu's case, SAPS Brigadier Novela Potelwa said without a case number she could not obtain information. Mlawu has lost the case number. Potelwa said there was no Family Violence, Child Protection and Sexual Offences Unit in 2002, so she could not get the information from the unit. She urged Mlawu to visit the Strand police station and provide details so police officers could track down the case on the computer system.
Dodgy people are suing us. Please support us by contributing to our legal costs and helping us to publish news that matters.