Protesters force city councillors to walk through sewage
Kariega residents divert Mandela Day convoy
Five Nelson Mandela Bay councillors were forced to visit two filthy streets in KwaNobuhle, Kariega on 21 July.
The councillors had come to deliver presents for Mandela Day to people in Peace Village.
Their convoy was blocked by angry residents who burned tyres and blew whistles.
The protesters forced the councillors to visit two streets where open drains, overflowing sewage and filth have been a problem for years.
Nelson Mandela Bay councillors who'd come to deliver gifts to poor families in Peace Village, Kariega last week were sent packing by furious residents.
The vehicles of the five councillors were blocked from entering the area.
Residents stormed out of their RDP houses, blew whistles and burnt tyres. They ordered the leaders to drive in a convoy through stinking Sakhwatsha Street instead. A SASSA bakkie and a municipal truck carrying sand to be put on the street where the event was to be held, were chased out of the area.
"All convoys must drive through Sakhwatsha Street," shouted resident Lwamila Tayi who was one of the protesters.
Protesters sang "amabhul' amnyama andenziwari (black boers make me worried) and "isikhalo somntwana sihoye" (attend to a crying child).
Sakhwatsha Street and other streets in the area have been in a mess for years, with open drains, overflowing sewage, trenches, broken bottles and overgrown grass.
"When we call an ambulance, it can't drive through Sakhwatsha Street. When we need police vans, they can't access RDP homes through Sakhwatsha Street, because this stinking street is very bad," said Tayi.
She told the visiting leaders, "We are not against your 67-minute project. All we want is that you must drive through Sakhwatsha Street and feel the pain. We are surrounded by stinking drains."
Another resident, Mzwakhe Nyiki, said the councillors had brought a truck to make temporary repairs on the streets they were planning to visit. "What about the ones we have been reporting for over five years that are bad?" he asked.
Resident Vusumzi Celem shouted, "We are not here to talk to you. No negotiations. We have been reporting drains, stinking streets to deaf ears. And getting reference numbers doesn't help, because no one is fixing anything. We are not against your event but we are saying: drive through Sakhwatsha Street."
Councillors Lungile Langbooi, Sabelo Mabuda, Yolisa Pali (Mayco member for corporate services), Bongani Mani and Makhi Feni suggested that a meeting be held but Langbooi reminded the protesters that they had burned his office during a protest for electricity.
Celem said: "We are angry now. We are not willing to be addressed now. They must just do a convoy on Sakhwatsha Street."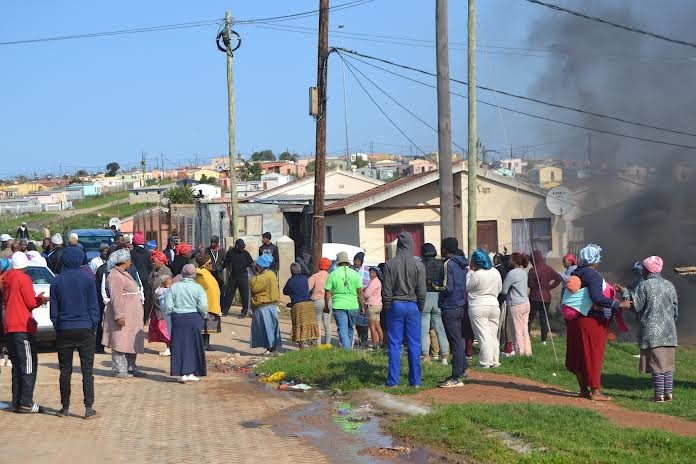 Finally Pali and her fellow councillors had to tip-toe along Sakhwatsha and Siboni Streets after being ordered by protesters to go and see the condition of the streets with their own eyes.
When they came back, they addressed the protesters. Pali said: "Give us a chance because, that street [Sakhwatsha Street] needs resources and it's a long term project to be undertaken."
"We will make sure the streets are fixed," she promised.
© 2023 GroundUp. This article is licensed under a Creative Commons Attribution-NoDerivatives 4.0 International License.
You may republish this article, so long as you credit the authors and GroundUp, and do not change the text. Please include a link back to the original article.
We put an invisible pixel in the article so that we can count traffic to republishers. All analytics tools are solely on our servers. We do not give our logs to any third party. Logs are deleted after two weeks. We do not use any IP address identifying information except to count regional traffic. We are solely interested in counting hits, not tracking users. If you republish, please do not delete the invisible pixel.