Protesters condemn "apartheid-style" harassment of student activist
Police say that one of the best detectives is investigating the case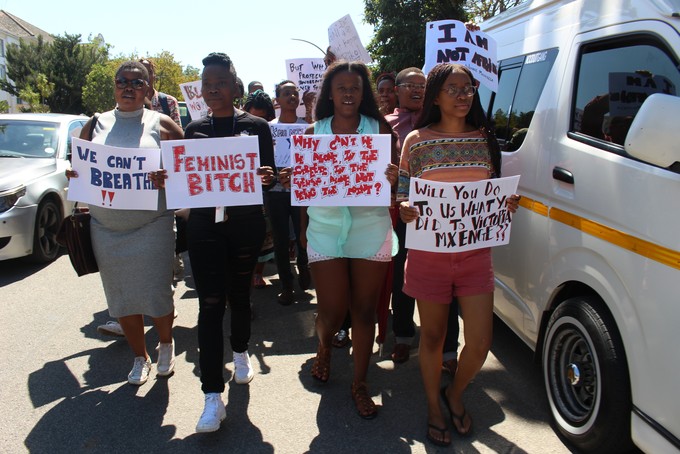 Students and staff of Rhodes University, as well as Grahamstown residents, marched to the town's police station yesterday. The protest followed the alleged harassment on 19 February of vocal student activist Lihle Ngcobozi.
While on her way to the university campus, Lihle was allegedly harassed by two police officers. According to Ngcobozi she was man-handled and told to stop her and her friends' involvement in the Rhodes University's student movement. She described the men as white and dressed in police uniform.
The approximately 40 protesters marched and sang from the university campus to the police station, along the route where the incident happened. Protesters condemned what they described as the apartheid era tactics that have been used to deal with people involved in recent student-led protests. They demanded details of progress on the case.
"We at the South African Police [Service] take this matter very seriously," said acting station commander, Colonel Monray Nel, in his address to the crowd gathered outside the Grahamstown Police Station. He added that a criminal case has been opened and one of the station's best detectives, Sergeant Nathan Daniel, will lead the investigations.
He further went on to condemn any form of violence against any person in South Africa on behalf of SAPS, citing the station's 16 days of activism in December as a time solely set apart to address crimes against women and children.
He concluded his address by commending the protesters for exercising their right to protest peacefully.
---
Sarah Rose De Villiers illustrated the event. Here are two of her drawings: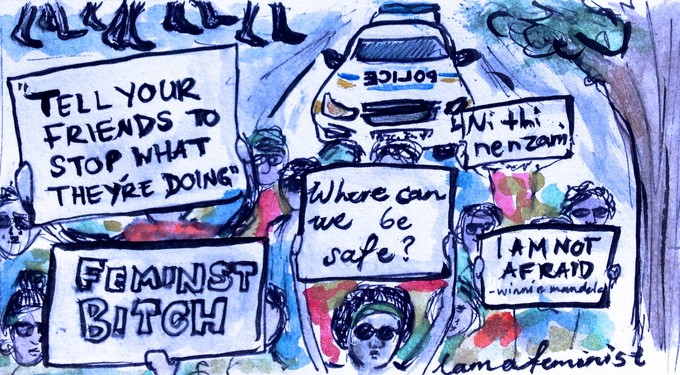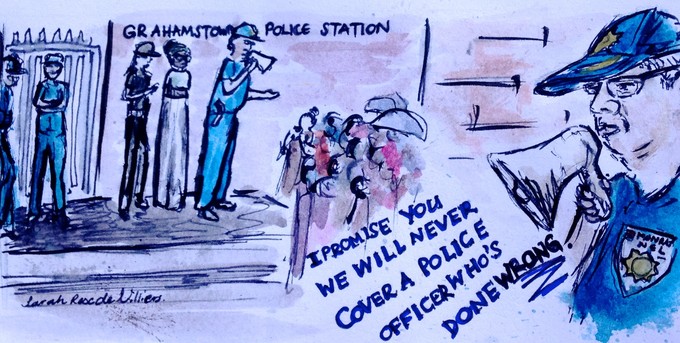 © 2016 GroundUp.

This article is licensed under a Creative Commons Attribution-NoDerivatives 4.0 International License.