The protection of women's rights begins with childhood
Men who are abused as boys are more likely to be violent as adults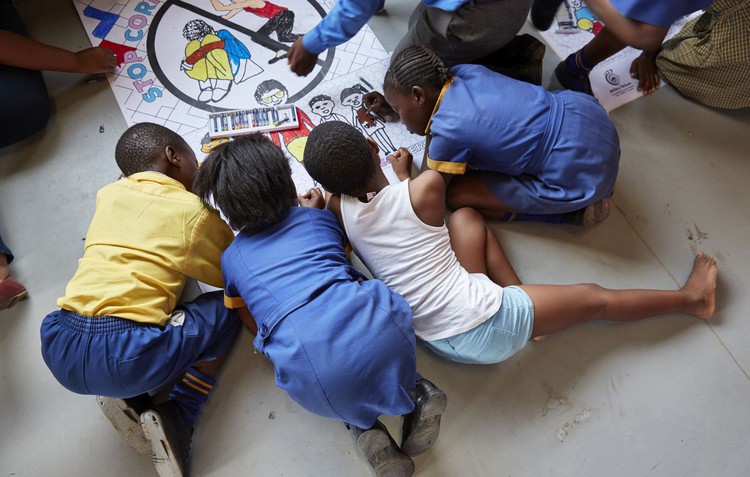 To solve the crisis of violence against women we need to look to boys' experience of childhood in South Africa. Behaviour disorders that lead to violence in later life are already present at the age of ten. This is not to say that all boys who experience abuse become violent. But if we want to heal our communities we must turn our attention to cycles of abuse that begin at a very early age.
In Diepsloot, a township north of Johannesburg, sexual and gender-based violence is a pervasive issue. In a 2014 survey, 76% of those questioned said they or someone close to them had been a victim of violence in the home or from an intimate partner. Domestic violence was the most prevalent problem, followed by rape and other forms of sexual violence (37%).
In a separate study from 2016 in Diepsloot, more than half of the men questioned said that they had either raped or beaten a woman during the past year.
The same study found a strong correlation between men's own exposure to violence and their use of violence: "Men experiencing child abuse were five times as likely to use recent violence against women… The majority of men interviewed experienced at least one type of physical or sexual childhood abuse. More than one-third had been raped or molested as a child."
It is therefore crucial that the persistent nature of violence is recognised. If we want to improve safety of women, we must begin with the protection and safety of all children from harm as a matter of priority.
The 2017 Optimus Study on the prevalence of sexual abuse amongst children in South Africa found similar prevalences of lifetime experience of sexual abuse for girls and boys. The data shows that boys need as much protection as girls (though their needs are different) – but this is only slowly being recognised. Violence in families, whether against children or witnessed by children, has serious developmental consequences and may result in the intergenerational transmission of violent behaviour.
In sub-Saharan Africa, evidence shows that victims of child violence have consistently poorer mental and physical health than other children. Physical, emotional and sexual violence against children has been found to have severe long-term outcomes on the child, which include the prevalence for lifetime physical, emotional and sexual abuse.
Physical, sexual and emotional abuse of children has been found to be higher in South Africa, compared to other sub-Saharan countries.
South Africa has some of the highest levels of sexual violence in the world. Also, the United Nations Office on Drugs and Crime (UNODC) has consistently found that South Africa has among the highest rates of homicide in the world. Violence against children is also widespread, especially violent forms of discipline meted out against children by family members and educators. Other forms of child abuse, such as neglect, emotional abuse, and sexual abuse, are also reported throughout the country.
In his book Lost Boys: Why Our Sons Turn Violent and How We Can Save Them Chicago-based psychologist James Garbarino identifies sets of factors that influence whether a boy will become violent. The first set is the accumulation of risk factors in the life of a boy. One or two risk factors may not diminish the child's intellectual ability; but three or four, or more, dramatically affect the child: "When we put too many burdens on a kid's shoulders," explains Garbarino, "he can't stand up under the weight". Risk factors include exposure to the violence described above, poverty, the absence of a parent, abuse and neglect, drug abuse in a parent, mental illness in a parent, low educational attainment in a parent, child abuse in the family, exposure to racism and large family size.
The second set of factors is social assets in the child's family, school and community life which help the child develop emotional resilience. These include a supportive family life, presence at a church or religious institutions for at least an hour a week, and optimism about the future. The more social assets a child has, the better the outcomes. Of the children with zero to ten of the assets surveyed in the Garbarino study, 61% were classified as violent (and this decreases in proportion to the social assets the child has).
By a very early age, Garbarino argues, the accumulation of these factors can determine the child's likely outcome in life: "90% of the kids who are put on the pathway that includes abuse, deprivation and oppression develop a chronic pattern of aggression, bad behaviour, acting out and violating others' rights – behaviours that might meet the diagnostic standard for conduct disorder – by the time they are 10 years old" (Garbarino). Whether they end up as killers, he goes on to argue, depends a lot on "how toxic or benign the culture is around them".
Prime (not his real name), a young man from Diepsloot, speaks poignantly about the pain of exposure to violence from an early age. As a child, Prime's experience of manhood was from close male relatives who "constantly abused women". Not understanding this behaviour, Prime lost trust in men, became reserved, withdrawn and lost confidence. "I did not know what to do and felt helpless. I remember every time I wanted to protect these women I was called names and told I was letting women control me," said Prime.
When Prime was 14, he made a decision to change his life. He enrolled at Afrika Tikkun in Diepsloot, where he met many young people with similar experiences. The previously shy boy started making friends.
He is one of 85 children between 13 and 18 who have been chosen as school-safety youth advocates. Within the community, they have identified issues such as teenage pregnancy, drugs and alcohol, poverty and inequality as requiring immediate attention. Most of the advocates said bullying, discrimination, and the consumption of drugs and alcohol were mainly responsible for threats to their safety at school. Over a third said they had been bullied and experienced discrimination at school. A fifth said they were afraid to go to school because of bullying.
All members of society, including children, should be able to hold those responsible for their protection to account.
In August, school-safety youth advocate Kamohelo Rantsane, a 21-year-old from Orange Farm with cerebral palsy, was chosen to attend a UN summit in Geneva, to discuss a submission made earlier in the year by Afrika Tikkun with input from the Disabled Children's Action Group (DICAG), a national organisation of parents of over 12,000 children with disabilities in South Africa). This submission touched on the protection of persons with disabilities (including children with disabilities) from sexual abuse and violence, as well as access to justice following rights violations (including criminal acts).
In the submission Afrika Tikkun says South Africa's Country Report does not adequately highlight and address sexual abuse of children with disabilities. Sexual abuse of children is under-reported in South Africa and sexual abuse of children with disabilities is increasingly difficult to report and prosecute, due to entrenched stigma among other factors.
The police and the Department of Social Development should align their activities and collaborate systematically to improve efforts to prevent violence against children, including children with disabilities.
Empowering young people with the language and tools to defend their rights and support their peers in this regard is urgent if we wish to solve the state of emergency for women in South Africa. We also need to look deeper into the roots of violence against women and girls in South Africa, and remedy it, beginning with teaching parenting skills. Caregivers should be supported to develop warm and caring relationships with their children and monitor them closely.
In the past, parents, community members and other influential adults in the life of the child have shown too much tolerance of violence against children and a reluctance to challenge the widespread culture of silence in communities over this issue. Breaking the silence is essential.
Dodgy people are suing us. Please support us by contributing to our legal costs and helping us to publish news that matters.