School mourns 11-year-old electrocuted by illegal connections
Eskom says its working on ways to help the Dunoon community as many of the shacks are built on private land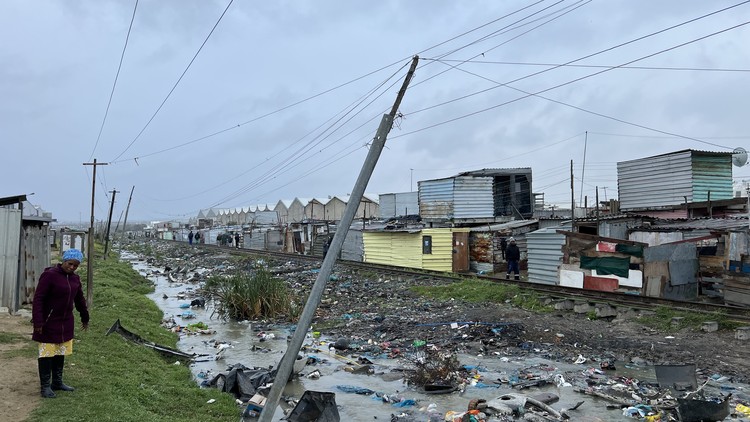 The webs of illegal electricity connections across Siyahlala informal settlement in Dunoon, Cape Town have led to the deaths of an 11-year-old child and 36-year-old Mpumelelo Ndyoko this month.
On 9 September, Unothando Majoka, who was in grade 5 at Sophakama Primary School, was electrocuted while hanging clothes on the washing line near her home. It is believed she slipped and fell against a zinc shack which had contact with a live electric cable.
Unothando's school hosted a memorial service on 20 September. Her body was transported and buried in Cala, Eastern Cape on 24 September. Sophakama principal Amos Siwayi told GroundUp that Unothando was the second learner at the school to have been electrocuted in less than a year. Siwayi said late last year a nine-year-old grade 3 learner also died.
He said Unothando will be remembered by her peers and teachers for being very humble, with dreams of becoming a doctor. Siwayi said learners have been barred from using the area behind the school because "there are low-hanging wires" connected to a pole on the school's premises.
Meanwhile, on 22 September, two weeks after Unothando's death, Mpumelelo Ndyoko was electrocuted, allegedly while trying to steal copper wires from the illegal connections. Table View SAPS spokesperson Captain Adriana Chandler confirmed that the man was electrocuted while stealing electricity cables at Siyahlala. She said an inquest docket has been opened for investigation.
Zukiswa Khaphakati, community leader at Siyahlala, was at the scene after Ndyoko had been electrocuted. Ndyoko was killed when the power was restored after loadshedding. "These wires are very expensive. A 100 metres cost us R600," said Khaphakati.
Ward Councillor Meisie Makuwa said they have been pleading with Eskom to come up with a plan to supply electricity safely.
Eskom's Western Cape spokesperson, Kyle Cookson, said the power utility was aware of the incident in Dunoon on 22 September. "The incident is being investigated internally as well," he said.
Cookson said illegal connections in communities pose a major risk. He said it not only endangers the lives of those tampering with high voltage electrical equipment, but also the community members. "The long-term solution is to electrify parts of Dunoon, but currently this is not possible as these areas are situated on privately owned land."
He said Eskom is in talks with the City of Cape Town and others over electrification plans and to eliminate illegal connections.
© 2022 GroundUp. This article is licensed under a Creative Commons Attribution-NoDerivatives 4.0 International License.
You may republish this article, so long as you credit the authors and GroundUp, and do not change the text. Please include a link back to the original article.
We put an invisible pixel in the article so that we can count traffic to republishers. All analytics tools are solely on our servers. We do not give our logs to any third party. Logs are deleted after two weeks. We do not use any IP address identifying information except to count regional traffic. We are solely interested in counting hits, not tracking users. If you republish, please do not delete the invisible pixel.