Covid-19: Premier Mabuyane witnesses huge queues for social grants
"Our biggest concern is when the virus reaches rural areas and townships"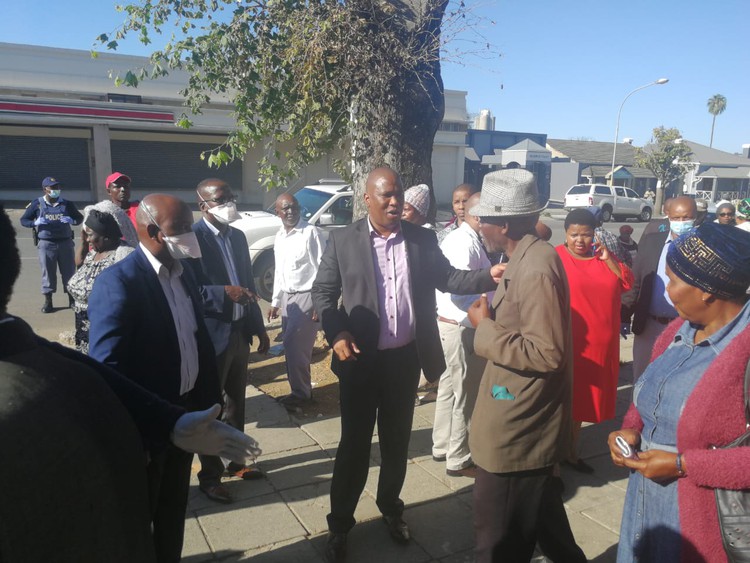 Eastern Cape Premier Oscar Mabuyane was in the streets of King William's Town on Monday to raise awareness about Covid-19 and the importance of social distancing. Social Development MEC Siphokazi Mani-Lusithi and provincial Police Commissioner Lieutenant-General Liziwe Ntshinga joined him.
At the same time thousands of social grants recipients were collecting their grants. As early as 5am, beneficiaries began queueing. When the post office opened at 8am, SASSA officials and police were seen urging the elderly to maintain space between each other.
Queues for social grants, whether at ATMs, post offices or stores, are long even during normal times. But with the lockdown, the number of shoppers has dramatically increased in some places, perhaps because of panic buying, making the waiting time for social grant recipients extraordinarily long. The social distancing measures are probably also slowing down the queues.
When Mabuyane arrived, he instructed officials to move the oldest people to the front of the line. This angered some of the people who had been standing in line since the break of dawn.
Social grant beneficiary Nocawe Manzana said she woke up early to collect her grant and buy essential goods. She arrived at the post office at 5am to queue in the cold.
"We understand the country is facing a crisis, but for us who live far from town, this is going to cost us. Buses leave at 2pm and if I miss it, I will have to take a bakkie. How am I going to make sure that I'm safe on a bakkie with more than ten people at the back?" asked Manzana.
At the Mdantsane City Mall, a number of social grant beneficiaries went home empty-handed. Many beneficiaries started queueing at 4am. The mall only opens at 7am. Four police officers assisted security guards outside as only 20 beneficiaries were allowed inside to use ATMs.
The longest line was for Net1 offices where some beneficiaries have bank accounts. A beneficiary who only identified himself as Khulekani said he has been on the queue since 9am. At the time GroundUp arrived, there were about 100 people in front of Khulekani.
"My fear is that they are going to close and there's no hope that I will receive my money today. I lost my card and have no other option of getting my money … I do not have money to go home," he said.
Premier Mabuyane told the crowd outside that they were, "worried about the steady increase of [Covid-19 patients]. Our biggest concern is when the virus reaches rural areas and townships because if one person is infected and travels by taxi the virus will spread among the passengers and they will spread it to other people that they come in contact with".
Dodgy people are suing us. Please support us by contributing to our legal costs and helping us to publish news that matters.