Port Elizabeth residents close ANC ward councillor's office
"We cannot accept the closure of my office. The office is owned by the community," says councillor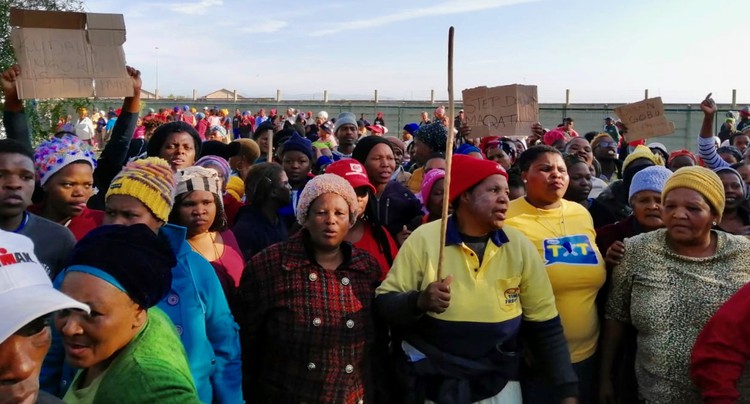 On Friday morning, the office of Ward 55 Councillor Mzuvukile Tom (ANC) in NU10, Motherwell, Port Elizabeth, was closed by protesting residents.
About 200 people from Shukushukuma, Tyoksville, Endlovini, Ramaphosa, and parts of NU 11, entered the councillor's yard and demanded he come outside.
The protesters sang Umoya wam uyavuma (My spirit is alive) and chanted, "Phuma, phuma!" (Get out).
When about 15 public order police arrived with a Nyala, a woman shouted, "This is not the office of the police. We will close it!"
Dumani Xakushe, a protest leader, said, "There is job scarcity. There are no parks, no tarring of streets, and Councillor Tom is failing to address us."
"When there are piece jobs, he gives them to family members, and most of the time, close friends."
Tom denied the allegations and said residents must show proof of this.
"We have been quiet for a long time. We want somebody else … We don't have hope in him," said Xakushe.
Nomathemba Ndikila, who is 89 and lives in a shack in Khayelitsha, said, "We take electricity from poles [illegal connections]. We also relieve ourselves in the bush … This area is also full of rubbish which is piling up … The councillor is destroying us."
Ward 54 Councillor Morgan Tshaka (ANC) arrived and seemed to defuse the situation.
A woman shouted, "Morgan, teach Tom how to be brilliant. Tell him how to lead."
Morgan, Tom and warrant officer Mzwanele Heshu conferred and then decided to close up the office.
Tom left with a police escort. Resident Mbulelo Taaibos then locked and chained the gate.
Tom told GroundUp, "We cannot accept the closure of my office. The office is owned by the community."
Tom said, "We passed the budget last week, after many times of convening meetings … We are waiting for the budget to go via department to department."
GroundUp visited Endlovini Street in Ramaphosa informal settlement. It is a sea of shacks and many people still use the bucket system. There is a stench of human waste. Illegal electrical connections hang at roof level.
Resident Sikhumbuzo Mafu pointed to a blue mobile toilet. "It's about three weeks that they have put that toilet there. It serves about 50 residents, including old people, children and the youth."