Police watchdogs are "outright liars"
No evidence of IPID investigation into assaults witnessed by Eduard Grebe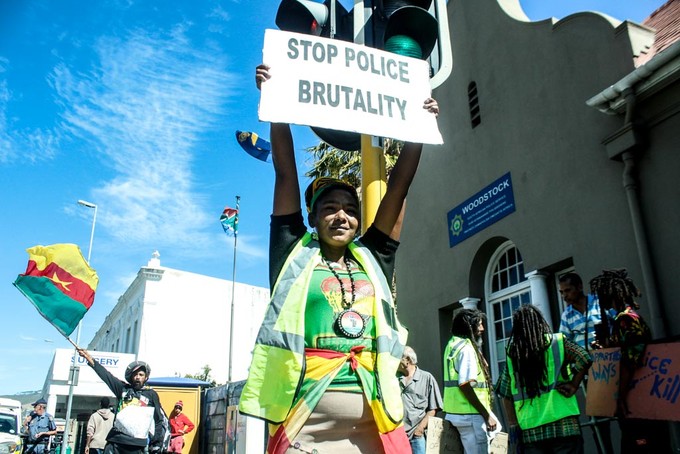 Eduard Grebe has asked Advocate Vusi Pikoli, the Western Cape Police Ombudsman, to investigate the Independent Police Investigative Directorate (IPID) for failing to properly investigate his allegations against police officers. He has also asked the ombudsman to investigate what he calls the "systemic problems and a culture of lawlessness at the Woodstock Police Station".
Grebe published an article on GroundUp in January describing how he was arrested on the night of 3 January after refusing to delete footage he took of officers assaulting a man they claimed to be arresting for drug possession. This was despite later finding nothing on him. Grebe described the poor conditions he was held in at Woodstock Police Station as well as another more serious case of assault that he witnessed the next day. He was released without charge.
Grebe's latest letter was prompted by the failure of either the South African Police Service (Saps) or the IPID to respond to his initial complaints. The IPID is the state watchdog responsible for investigating complaints of police brutality and corruption.
ObsLife reported in late March that Woodstock Police Station Commander Col Duma Ntsezo issued a statement affirming members of the public can film police action as long as they do not interfere with officers' execution of their duties.
Saps' Standing Order 156 states: "a media representative may not be prohibited from taking photographs or making visual recordings." The Right2Know campaign has been pushing for Saps to make that stance clearer by including ordinary citizens, not just media representatives.
Grebe filed a complaint with the Western Cape Ombudsman of Police about the two assaults he witnessed as well as his alleged unlawful arrest. The investigation into the arrest was to be carried out by Saps, but the Ombudsman recommended Grebe take the assault complaints to the IPID.
Captain Moll of Woodstock Police Station handled Grebe's case. Grebe said Moll took his statement and told him that a disciplinary process was underway for one of the two officers that took him into custody.
"They completely ignored the second officer as well as the senior officer who I view as more responsible, who, even after being called by my lawyer and told that I was being held without grounds, would not release me," Grebe said.
Grebe signed a document saying he was satisfied that an investigation was ongoing into one of the officers. He was told he would be contacted to testify. But, he says, he instead received a copy of a letter from Moll to his superiors saying Grebe was satisfied that the relevant member of Saps was spoken to and the matter was closed.
Captain Moll, however, told GroundUp the investigation is ongoing at the Saps Western Cape provincial office, and Grebe will be called in to testify when the hearing is held.
If and when the hearing is held though, disciplinary action often is not very severe, according to Gareth Newham, head of the governance, crime and justice division at the Institute for Security Studies.
In Saps 2014/2015 annual report, of the 4,457 disciplinary cases, less than ten percent resulted in dismissals.
Grebe's other two allegations, focusing on police brutality, were supposed to be handled by the IPID. He sent Owen Anthony, the IPID's Deputy Director of Investigations, multiple emails but did not receive a response. GroundUp reported on 21 January that Anthony had confirmed receipt of the email and planned to respond.
The IPID reviews cases, and upon completion, either makes recommendations to Saps to conduct disciplinary action or the National Prosecuting Authority (NPA) to pursue criminal charges.
Anthony told GroundUp that the IPID had made a recommendation to the NPA. But the senior public prosecutor declined to prosecute the case and did not provide a reason. He provided no details on the recommendation the IPID made to the NPA.
"It is surprising that the IPID made a recommendation to the NPA, as they appeared not to have collected evidence from the witness nor to have identified the victim of the alleged assault," said Gwen Dereymaeker, a researcher at the Civil Society Prison Reform Initiative.
"It is therefore unclear what could have formed the basis of the file that they submitted to the NPA containing their recommendation. Without all the evidence needed, the NPA is unable to make a decision to prosecute or not. The apparent failure of the NPA to request additional information from IPID is equally surprising," explained Dereymaeker.
Anthony also told GroundUp that the caseworker on Grebe's claim, Mr Masangwana, personally conveyed the prosecutor's decision to Grebe.
"That is an outright lie," said Grebe, who claimed he had never heard of Mr Masangwana. "To the best of my knowledge no IPID official has ever attempted to contact me."
"And I fail to understand on what basis a prosecutor could have made a decision without any sort of witness statement from me," Grebe continued.
Researchers and community activists following Grebe's case have pointed out recurring flaws in the systems of oversight over Saps, the least of which is a lack of communication.
"Saps has a big problem with not communicating enough with victims," Newham said. "It may be the same for the IPID."
Beyond that, the IPID has come under scrutiny for underperforming.
In its 2014/2015 annual report, the IPID outlined a goal of completing 65 percent of investigations of death as a result of police action within 90 days. The actual result was 22 percent, and removing the 90 day limit, IPID completed 50 percent.
"It's worrying that so few are completed in three months," Newham said. "People's memories change, and the case becomes weaker."
The IPID's conviction success rate is also very low. Of 5,879 complaints received in the year, one percent resulted in a criminal conviction. And those convictions are often very light. Assault, from minor assault to assault with grievous bodily harm, often results in fines of R300 to R5,000 and occasionally up to 12 months in prison.
"There are very low conviction rates for police by the NPA – much lower than the normal public," Newham said. "It's usually because the prosecutors have to work closely with police in other cases and think too strict a stance might undermine relationships with them."
Many point the finger at the IPID's lack of resources. In its own report, the IPID explains its underperformance, citing "capacity constraints."
The IPID replaced the Independent Complaints Directorate in 2012 under the Independent Police Investigative Directorate Act, which expanded its mandate and increased its workload.
"The IPID receives a lot more cases, but its budget and capacity have not increased," Newham said. "They have 182 investigators to cover over 5,000 cases a year as well as cases that have rolled over from previous years."
When it comes to oversight of the police, however, Newham said external investigations will not be able to significantly affect police impunity without changes in police culture.
"Investigating police officials is very difficult," he said. "Officers often band together and don't testify against each other."
The Office of the Saps Western Cape Provincial Commissioner did not respond to requests to confirm the ongoing disciplinary investigation and hearing procedures.
© 2016 GroundUp.

This article is licensed under a Creative Commons Attribution-NoDerivatives 4.0 International License.
You may republish this article, so long as you credit the authors and GroundUp, and do not change the text. Please include a link back to the original article.