Mobile police station is a "sleep van", says resident
Vusi Pikoli hears Masiphumelele residents' complaints about cops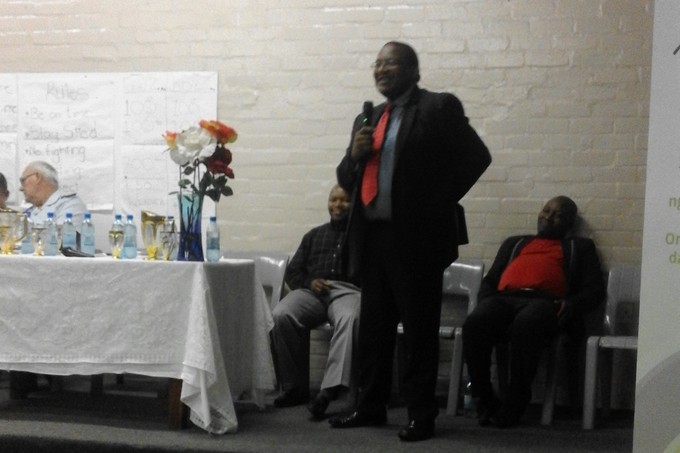 "At midnight you go to this mobile police station. It is closed. In the morning you go to report a case and it is closed, and they are sleeping, I do not know if it is a sleep van."
So said a woman at a community meeting in Masiphumelele yesterday. About a 100 residents gathered at the Baptist church to voice their concerns to the Western Cape Police Ombudsman Vusi Pikoli about policing in the community. It is an an issue that residents have been complaining about for many years.
The woman continued, "My neighbour's child was beaten by some people and we stopped a police van. They told us to go to the mobile police station. We did just that. And they said they will come but they never came."
Other police and politicians who attended the meeting included Cluster Commander Martin Swanepoel, Ocean View Station Commander Errol Merkeur, Major General Hendrik Burger (Deputy Provincial Commissioner of SAPS Western Cape), and DA chief whip Mark Wiley.
However, ward councillors Felicity Purchase and Mzuvukile Nikelo were invited but did not attend.
Residents raised a number of issues. They said the mobile police station serving the township is not good enough, drug dealers should be arrested, community activists should not have to be the ones fighting crime, police action during protests must not harm children, elderly or sick people, and police action must be on the side of innocent residents, not drug dealers.
A statement by community leaders was read out. It said, "After years of us petitioning the authorities, the people of Masiphumelele have finally been provided with an inadequate and inappropriate mobile police station. We are deeply dissatisfied with what has been provided, instead of what we asked for: a functional and well staffed permanent police station …"
It went on to say that the mobile police station has been provided without considering that most of the Fish Hoek to Ocean View valley population live in Masiphumele and that sensitive and well-staffed policing capable of dealing with drug dealers, related crime investigations, and general crime prevention and combat were needed. (Census 2011 gives the following population figures: 13,469 for Ocean View, 17,081 for Masiphumelele and 11,890 for Fish Hoek, 6,042 for Kommetjie.)
"Instead we have a vehicle-based office, staffed by one or at most two officers. They provide no significant new visible policing to the area, let alone investigative capacity. In fact their services are substantially consumed by local residents who need to have certificates stamped. It is our conviction that our request for greater policing capacity has not been served by what we have been given," said the statement.
Mandisa Mahlumba, a resident and a mother at Hokisa's Children's Home, a safe house for children living or affected by HIV/AIDS in Masiphumelele, spoke about the effect that last year's riots had on the children at the home. "When there were shootings our children used to pick up these rubber bullets. We have an in house doctor that was shot and robbed. Our children's home was shot and robbed five times and still there was no investigation into the matter, we took it upon ourselves to hire a security person from the community," she said.
Many others stood to either tell their experiences or ask questions, from poor investigation of cases to poor police visibility.
A doctor in the area, Peter Jacka, who has been working in Masiphumelele since 1999, has been robbed and shot twice. No one has been arrested.
After explaining the purpose of the ombudsman, and that it is independent of the police and provincial government, Pikoli said, "When members of the community have got complaints against the police they must have a place to go. … When there is a breakdown between police and the community what normally happens is that people start taking the law into their own hands and they lose confidence in the police. When you report to the police and they do not respond you start taking the law into your hands and end up in trouble,"
The Ocean View station commander said the station had 78 members, 51 of which are operational staff, ten detectives and 17 support staff. They are responsible for three communities: Masiphumelele, Ocean View and Kommetjie.
Major General Burger committed to investigating community complaints. He suggested residents take photographs if they find police sleeping in the mobile van.
© 2016 GroundUp.

This article is licensed under a Creative Commons Attribution-NoDerivatives 4.0 International License.
You may republish this article, so long as you credit the authors and GroundUp, and do not change the text. Please include a link back to the original article.