Pietermaritzburg municipal workers demand permanent jobs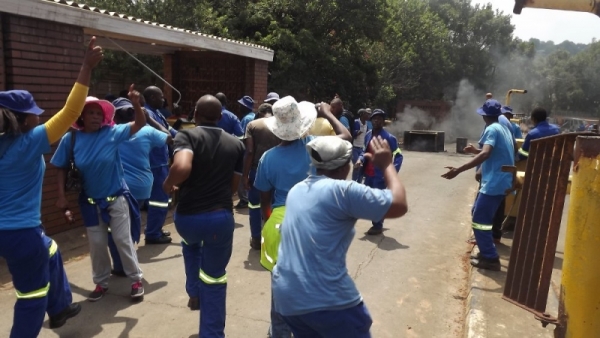 About a hundred municipality workers on temporary contracts for the Msunduzi municipality, which includes Pietermaritzburg, downed their tools and protested outside the KaMagwayi depo yesterday. They are demanding permanent positions.
The protesters included people who work on water, waste, sanitation drainage, parks and road marks. Some claim they have been temporary employees for 15 years.
Sibongiseni Ngema (32) said,. "According to South African law, a person must be registered after working for a three months period in a government department. That is not happening in our municipality. I have been working for three years. Since then I'm a temporary worker without any benefits. I have a family of six and I'm the only one who is working. I'm paid R80 per day … We work under risky conditions. We fix broken pipes of faeces. We collect rubbish. We bore roads but we are being treated like animals," said Ngema.
"We don't want any talks now. We are tired of negotiations," said Alpha Ndlela (48). He works in the water and sanitation department. Ndlela said he has been working as a temporary employee for eleven years.
"We have been fighting this war for too long and we are not winning at all. We have decided that from today, we want no negotiations but we want an agreement that they hire as permanent employees. We have tried speaking to the municipal manager Mxolisi Nkosi but he has not come up with a solution. All we hear are promises and promises. … We are not fighting with them but we want to be treated with dignity," said Ndlela.
Some protesters started small fires. Entrance to the depo offices was also blocked.
The protest will continue today. Employees say they will protest until their demands are met.
This is not the first protest directed against the municipality regarding permanent posts and wages. Protesters have also threatened that they will not vote in next year's local elections.
Msunduzi municipality spokesperson Nqobile Madonda said the municipality is aware that there was a strike yesterday morning. "The Municipality has internal platforms for addressing employer-employee disputes and concerns. There are also due processes for legitimizing strike action. As a matter of practice and procedure, the municipality cannot deal with internal employer-employee disputes raised via the media; within the media space. Dissatisfied or disgruntled employees, about any employment matter or any individual employee are encouraged to address their legitimate concerns with line management internally first, in their respective hierarchy. The municipality is committed to addressing all legitimate employer-employee disputes speedily, with fairness and integrity, provided affected employees also follow due process and do not embark on strike action that is illegitimate; or wage a media campaign to discredit the municipality or fellow employees, without valid facts. Council is committed to resolving this amicably, however we will not be engaging via the media," he said.
Dodgy people are suing us. Please support us by contributing to our legal costs and helping us to publish news that matters.
© 2016 GroundUp.
This article is licensed under a
Creative Commons Attribution-NoDerivatives 4.0 International License
.