Philippi informal settlement residents say they are the "forgotten" community of Cape Town
The City says it is unable to assist because their shacks are on private land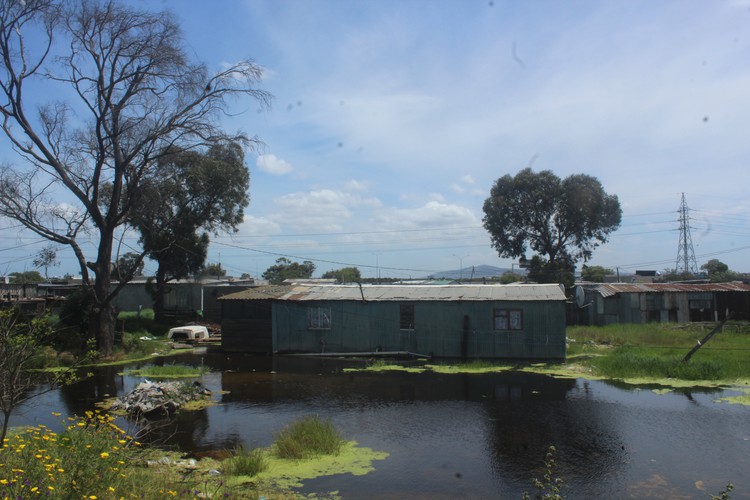 Residents living in an informal settlement in Philippi, Cape Town say they are the forgotten community in the city.
The area has been waterlogged for nearly half the year.
The residents claim the settlement was established over 40 years ago but they have no services other than portable toilets from the municipality.
The City, however, says services cannot be provided because the shacks are built on privately-owned land.
---
Klipfontein informal settlement near Govan Mbeki Road in Philippi has been waterlogged for the past six months.
Residents say heavy rainfall and the lack of adequate drainage for stormwater has left the community flooded. This, however, has been an ongoing issue since 2013, according to the City of Cape Town.
Formed more than 40 years ago, Klipfontein Informal Settlement is yet to receive some basic services like water and electricity. There are about 1,000 shacks on the but some families have over the years built a few brick and mortar structures. They also rely on illegal connections for electricity. There are no standpipes but some families have found ways to connect water to their homes. The City has only given portable toilets for people to relieve themselves.
The residents say they were once promised houses by the City but were later told that services as well as housing could not be provided because their shacks are built on privately owned land.
Peter Hendricks, 43, claims to have lived in Klipfontein all his life. The shacks were moved to land next to the Cape Town International Airport decades ago to make a way for the N2 highway.
"The City has made it very clear to us that we do not belong to them. They are aware of this problem and we have been informing them. Last time they were here, they pumped water for a few minutes then switched off their machines. When I asked why they stopped, I was told that they received a call to stop draining the water because the land is private. They never returned," said Hendricks.
He has since managed to buy a generator for R3,000 to pump the foul smelling stagnant water. Hendricks said every weekend he spends about R200 on petrol to pump the water to prevent it from flooding his home. "I'm a breadwinner. I don't always have money but the situation is forcing me to always pump this water otherwise this dirty stinking water will go to my house … If you don't do things yourself, no one will do it for you," he said.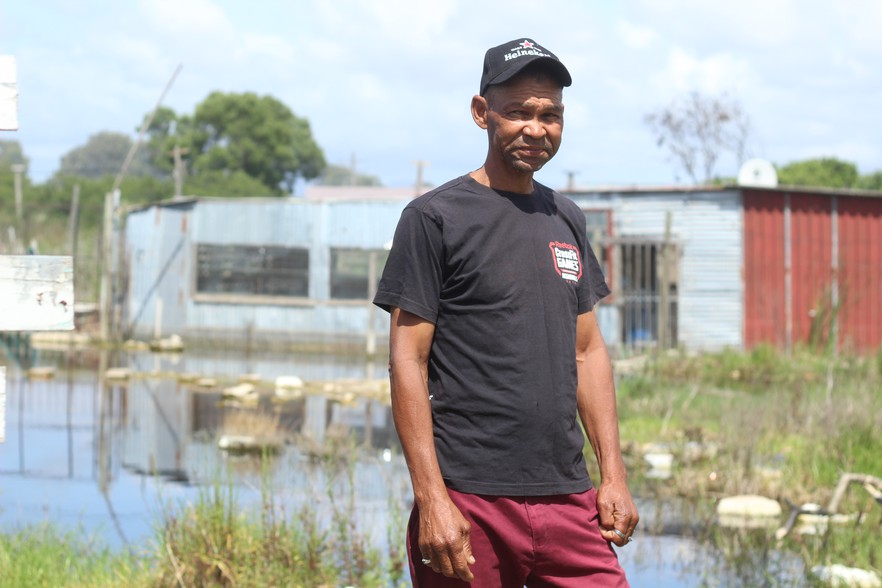 Another resident Dawn Simpson said the only service delivery they received from the City were the portable toilets. They are collected from a central point in the area three times per week for cleaning.
The City's spokesperson Luthando Tyhalibongo told GroundUp that the Klipfontein land belongs to the Methodist Church. According to him, the Roads Infrastructure Management Department conducted a site visit in September this year to inspect the stormwater system. It was found to be fully functional, he said.
Tyhalibongo said that pumping stagnant water from flood-prone informal areas "is not a sustainable solution" and as it is on private land, it would be the responsibility of the owners.
"The Stormwater By-law states that each resident or dwelling owner is obligated to channel stormwater runoff and deal with it sufficiently. These stormwater runoffs can be connected to our current stormwater infrastructure that is fully operational."
The Methodist Church did not respond to our emailed request for comment by the time of publication.
Dodgy people are suing us. Please support us by contributing to our legal costs and helping us to publish news that matters.
© 2021 GroundUp. This article is licensed under a Creative Commons Attribution-NoDerivatives 4.0 International License.
You may republish this article, so long as you credit the authors and GroundUp, and do not change the text. Please include a link back to the original article.
We put an invisible pixel in the article so that we can count traffic to republishers. All analytics tools are solely on our servers. We do not give our logs to any third party. Logs are deleted after two weeks. We do not use any IP address identifying information except to count regional traffic. We are solely interested in counting hits, not tracking users. If you republish, please do not delete the invisible pixel.