Peace monument now a drinking spot
The Seven Day War memorial in Pietermaritzburg has been vandalised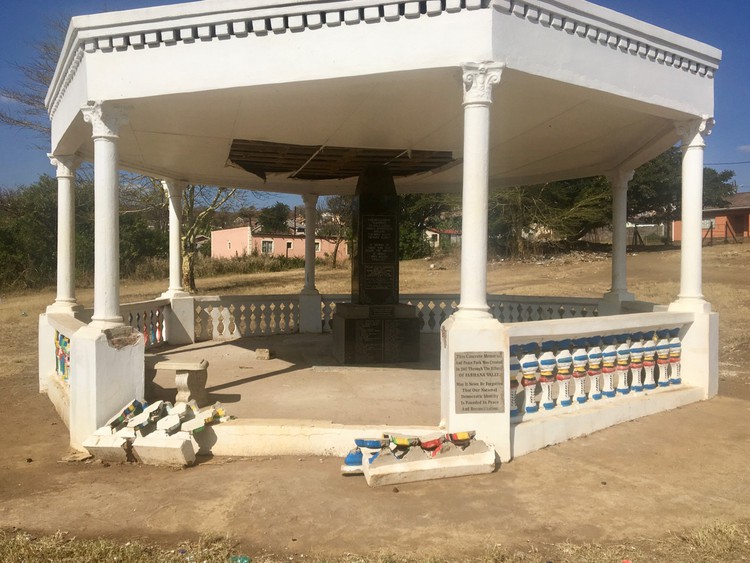 A monument to the victims of the "Seven Day War" which broke out on 25 March 1990 in Edendale, Pietermaritzburg, has become a drinking spot.
In 1998 an obelisk was erected to the memory of the over 80 people who died when conflict erupted between the IFP and the ANC in Greater Edendale. President Nelson Mandela and IFP leader Mangosuthu Buthelezi unveiled the peace monument. But today, the monument is used by people as a place to smoke and drink. It has been vandalised only a year after it was renovated.
Ward councillor Caiphus Ndawonde said the National Lottery Distribution Trust Fund paid for the renovations. To protect the cenotaph, on which the names of the people who died are inscribed, a gazebo was erected. But the structure has been badly damaged. The concrete perimeter railing has been smashed in places and the ceiling is falling down. The floor is strewn with cigarette butts.
A street vendor, who sells sweets and snacks nearby, told GroundUp: "You see youngsters sitting and smoking inside. Some even smoke dagga. Most of them don't know what it means … Pity our young ones are not aware that this is our history."
Sbonelo Zondi, who lives nearby, said on weekends people arrive in groups. "They sit inside, smoke and drink … People lost their lives. Some relocated because of the war. This is one history that took away our loved ones … It is very sad," said Zondi.
GroundUp asked two youngsters smoking in the memorial site if they knew what the memorial was about. "I just see a list of names. I don't know what it means. It is clear that it has something to do with IFP and ANC, it's written there," said one.
The director for Msunduzi Pietermaritzburg Tourism, Dumisani Mhlongo, said the heritage site "should be treated like a cemetery".
Msunduzi municipality spokesperson Thobeka Mafumbatha said, "We have conducted an audit exercise on tourism heritage sites … A plan is being developed to deal with all the issues that have been raised."
But Ndawonde said, "With the municipality it takes ages. There are reports and more reports to be filed."
However, he said, the Edendale and Imbali Tourism Organisation had been formed. "We are trying to raise funds. If all is a success, we will fence the site. We want the vandalism to stop."