PE community leaders blame mayco member for failed relocation
MMC for Human Settlements Andile Mfunda under fire but standing firm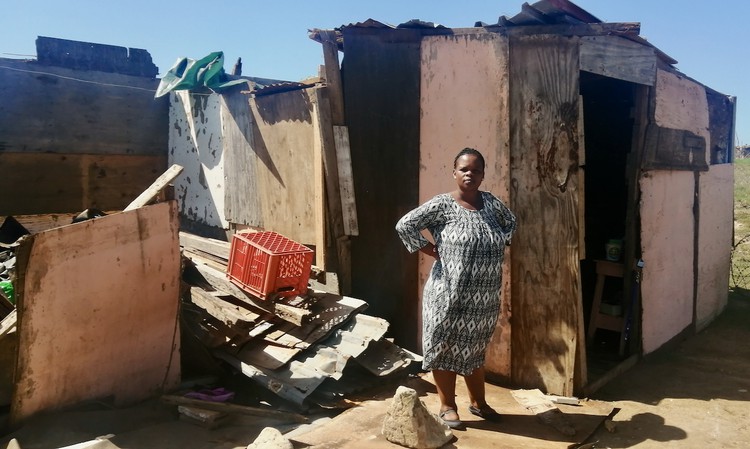 After dismantling their shacks in the anticipation of being relocated from Qunu and Vastrap informal settlements to serviced sites in Jaagvlakte, Port Elizabeth, 17 households have found themselves out in the cold for three weeks.
The relocation of 877 Vastrap households started on 27 February but was stopped on the 2 March after a failed meeting between Mayco Member for Human Settlements Andile Mfunda and the informal settlements' community leaders.
Vastrap leaders could not agree with Mfunda's decision that the first 327 serviced sites should be shared 50/50 among the two informal settlements. The Vastrap community claim they fought hard for the sites with violent protests in February which lasted for five days.
A third group, all backyard shack dwellers, has also demanded 10% of the serviced sites. All three parties are warning of violence if their demands are not met.
So far 117 households were transported with municipal trucks to Jaagvlakte.
"I dismantled my shack on 29 February but until today I have not been relocated," said Nonkululeko Gumede. "I just finished my TB six-months treatment in December," she said.
"I have been sleeping in a temporary shack that looked like a pigsty. It was wet and cold … I am unemployed and my neighbours are helping me for free," she said.
Tembisa Mene, a mother of two, said, "My shack is falling apart. I had to rebuild it myself. Whenever it's cloudy I get worried. I have to fix this plastic on my roof because all the water gets inside.
"I thought by now I would have been relocated. I am heartbroken … All my furniture is damaged. I have sleepless nights as thieves also steal our material," she said.
After a series of meetings between Vastrap leaders, the backyard shack dwellers, and the Community Police Forum (CPF), 15 community leaders, marched to the mayor's office and handed a petition to the office of the Speaker of Council on Thursday morning.
"We want the Speaker to intervene in the failed relocation of Vastrap households," said backyard shack dwellers' representative Tandisizwe Makapela.
"We also agreed that the 20 people of Qunu who had already dismantled their shacks should also be relocated to Jaagvlakte … Vastrap agreed and 14 households out of 20 from Qunu were relocated," said Makapela.
"Qunu disrupted the [relocation] process and burnt tyres demanding 50/50 [of the 327 sites] that Mfunda had given them. We want peace. Vastrap fought hard for the 327 sites."
Vastrap community leader Rhina Nela said, "We are united as community leaders of this ward and CPF is helping us. The 327 sites belong to Vastrap. Then we can share 50/50 of the 550 sites with Qunu and 10% with the backyard shack dwellers."
But Siyabonga Myoyo, community leader of Qunu informal settlement, said, "We stand by Mfunda's 50/50 decision."
Tim Hendricks, chairperson of the Mount Road Cluster CPF Board, said, "I am very disappointed with Councillor Mfunda. I have known him for a long time. We have him on record committing himself to giving Vastrap residents the 327 Jaagvlakte sites. But few days after he made this commitment he turned against his decision and said 50/50 … He broke the promise that he had made to the residents of Vastrap. His dictatorship attitude is not going to solve the problem."
"People are angry because of dishonesty. We cannot tolerate the recurring of these violent protests. We have a right to lay charges against anyone who is sowing divisions that lead to these violent protests," Hendricks said.
"We will continue calming down the angry residents and try to get Mfunda to the meeting and resolve this matter," he said.
Mfunda refused to comment.
Nelson Mandela Bay Municipal spokesperson Mthubanzi Mniki said, "The 50/50 decision came out of the consultation of all parties concerned. When the City implements development it has to be transparent, consultative, inclusive, fair and abide by the guidelines of Human Settlements legislations. This is the kind of leadership Councillor Mfunda has provided."
Premier Oscar Mabuyane spokesperson Mvusiwekhaya Sicwetsha said, "If the Speaker can't help them, then they should approach the Department of Cooperative Governance and Traditional Affairs."