Madibeng protesters travel 60km to complain to mayor
They are demanding consistent and clean drinking water as well as electricity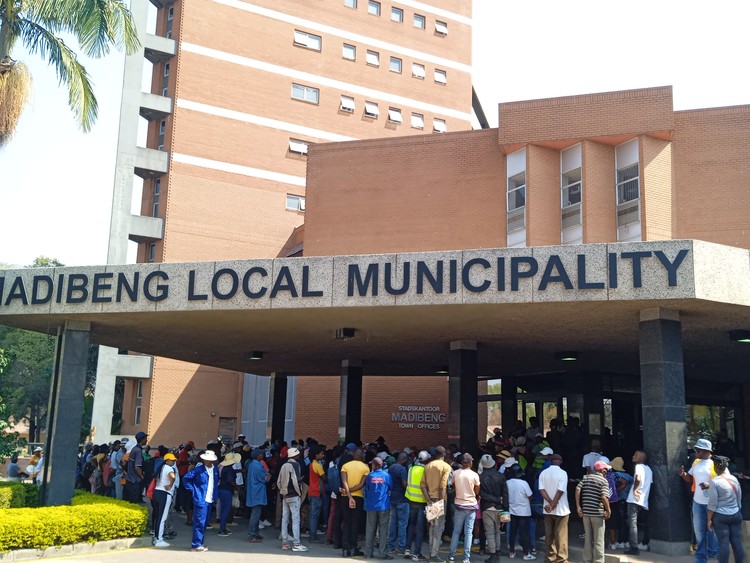 On Tuesday, over 200 people from Hebron, Kgabalatsane, Kagisanong, Micha Kgasi and surrounding communities protested at the Madibeng Local Municipality's office in Brits.
The fed-up community members hired two buses to transport them on the hour-long journey to hand over a memorandum of grievances to Mayor Douglas Maimane.
This is not the first protest by these communities. A month ago, GroundUp reported that residents took to the streets over frequent water and electricity outages. They also complained about poor road infrastructure. Last year, following a water related protest in Hebron, Maimane told protesters that the embattled municipality was struggling to pay its water debt to the City of Tshwane.
In their memo, residents are demanding access to sustainable bulk water supply, among other things. They currently have inconsistent supply and rely on water being brought by tanker. "Water tankers should only be used in situations where there is a technical problem that affects Tshwane bulk water supply in general, as a temporary measure," they said in the memo.
Protesters also complained of frequent electricity outages and wanted the municipality to replace damaged transformers and stolen cables in areas like Itireleng.
Pensioner Pogiso Thluele from Kgabalatsane said: "We are suffering so much. We even fight over water from these water tankers. It is tiring because we are old. We have come here because we hope the municipality will see our pain."
Proportional Representation (PR) Councillor for the Economic Freedom Fighters (EFF), Samuel Riba, said: "In Ward 10 there is no service delivery taking place at all. Our people are suffering. We don't have water, we don't have proper roads and electricity is a nightmare. That's why we decided to come here."
Riba said they have given the mayor two weeks to respond to their memo. "If he fails to respond, then he must fall on his sword and resign. If he fails to resign, we will mobilise everyone to claim back the municipality."
Maimane signed the group's memorandum and acknowledged their complaints. "You left your homes and came here, we thank you for the effort. I am committing that I will respond to your demands within the time frame," he said.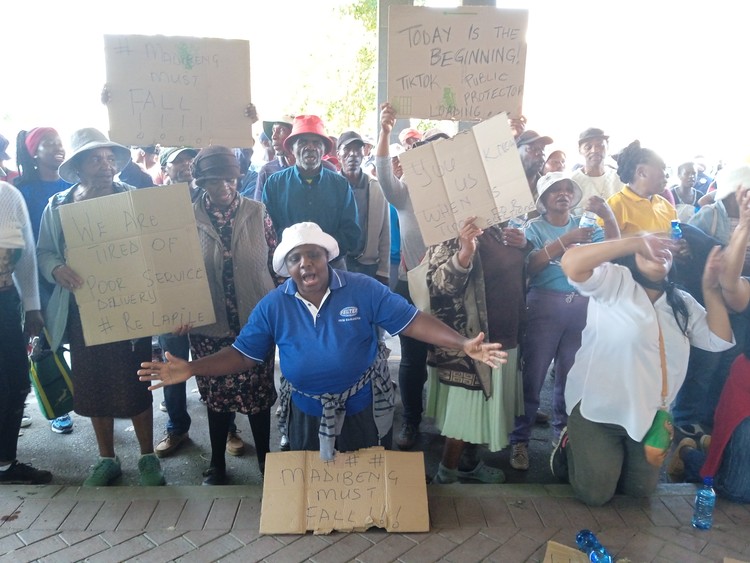 © 2023 GroundUp. This article is licensed under a Creative Commons Attribution-NoDerivatives 4.0 International License.
You may republish this article, so long as you credit the authors and GroundUp, and do not change the text. Please include a link back to the original article.
We put an invisible pixel in the article so that we can count traffic to republishers. All analytics tools are solely on our servers. We do not give our logs to any third party. Logs are deleted after two weeks. We do not use any IP address identifying information except to count regional traffic. We are solely interested in counting hits, not tracking users. If you republish, please do not delete the invisible pixel.