Outrage over Metrorail annual fare increase
Commuters question raising tariffs when service is going from "bad to worse"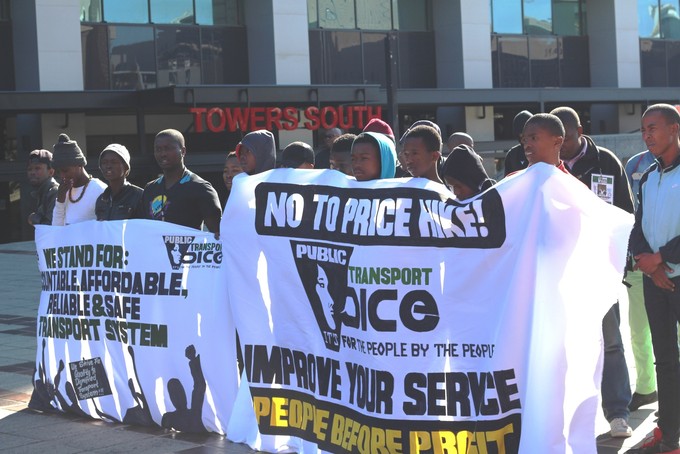 On Saturday, Public Transport Voice (PTV), an NGO that advocates for safe, affordable and accountable public transport, picketed outside the offices of PRASA (Passenger Rail Agency of South Africa) and handed over a memorandum and a petition they say has garnered 10,000 signatures opposing the Metrorail annual tariff increase on 1 July.
The organisation says it rejects a price hike while services by Metrorail have gone from bad to worse.
Vusumzi Ndongeni of PTV said, "Train delays, people getting robbed – those are some of the problems that people are faced with on a daily basis. A monthly or a weekly ticket is like a contract between Metrorail and commuters. If they fail to take you from one point to another, then they are breaking that contract. They should be able to provide alternative transport, but they don't."
"We have engaged with management a number of times and they keep telling us that things will not change overnight and that we must be patient. We have told them that people are losing patience; they are tired of hanging on trains," said Ndongeni.
He said the central line which includes Mitchell's Plain and Khayelitsha is the busiest and makes the most money yet has the most problems.
The memorandum includes demands for disability friendly structures, proper working doors and windows, visibility of security personnel inside the trains, and for each station to have working elevators, lights and digital train timetables.
PTV also want an intercom system in each coach, decentralisation of ticket sales, whereby train tickets are sold in train stations and retail stores, and for monthly and weekly ticket buyers to be put on a database so that they can be notified early should there be delays.
A Khayelitsha resident who works in Langa said he has been using the trains for over ten years. "We no longer arrive to work on time nowadays. We buy monthly tickets, but you find that it was a waste because you end up using taxis to get to work on time.
"Every morning I have to first go to the station to see how the trains are doing and sometimes it happens that I use taxis the whole week, and if we do get trains, they get stuck in the middle of nowhere. Taxis are expensive compared to trains," he said.
He is meant to be at work at seven in the morning, but he says he sometimes only gets to work after nine thanks to train delays.
Another commuter, Ntombovuyo Tshetu, said she knows a lot of people who have lost their jobs or have been given warnings for being late at work due to train delays.
"People [employers] would tell you to get to the station earlier. It doesn't help because you can sit there for hours waiting for a train or if you do get [one], it gets stuck … And what if you do not have money for a taxi, what then?" asked Tshetu.
"I stopped using third class because I was tired of standing in trains … I moved to first class, but most times I still stand because those using third class come in. No one is there to check the tickets," she said.
Senior Manager of Strategic Operations at PRASA Eddie Chinnappen signed and accepted the memorandum. Chinnappen refused to speak saying the memorandum was not addressed to him.

PTV has given PRASA seven working days to respond.
© 2016 GroundUp.

This article is licensed under a Creative Commons Attribution-NoDerivatives 4.0 International License.
You may republish this article, so long as you credit the authors and GroundUp, and do not change the text. Please include a link back to the original article.