Our living conditions deserve the same attention as Coronavirus, say angry shackdwellers
Roads blocked, buses set alight in Port Elizabeth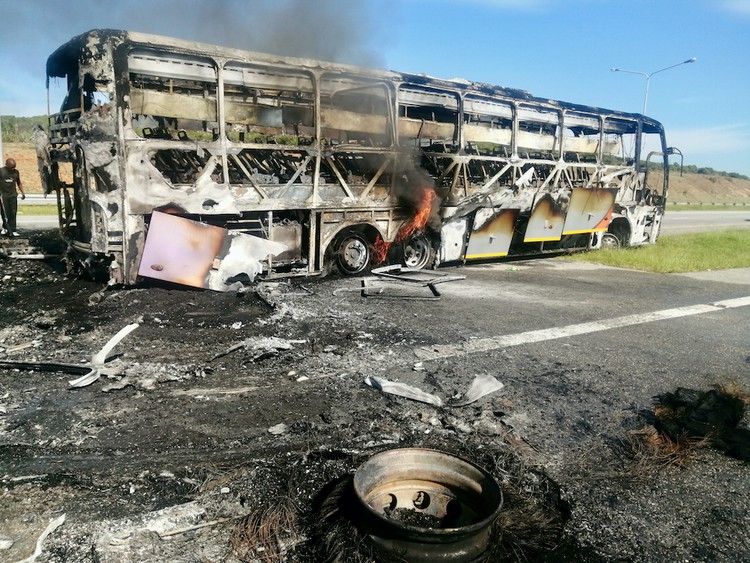 Hundreds of protesters from informal settlements in Port Elizabeth defied the ban on gatherings of more than 100 people on Wednesday, blocking roads and setting alight three buses. The protesters claimed their problems were more serious than the Coronavirus.
As early as 4am angry Westville residents blocked the Mission Road with burning tyres, rocks and storm water pipes. They torched two Algoa Bus Company buses and pelted some of the vehicles with rocks. Electricity is the priority on their list of demands.
Joe Slovo and Bayland residents blocked the R75 Uitenhage Road and set alight an Eagle Liner bus company bus.
Sipho Ntsondwa, community leader of Westville, said, "This is a total shutdown by three neighbouring kasis [townships]. We decided to come together and do the same thing because all our grievances are common."
"Last year before the elections, after we had a huge protest, Minister Nomaindia Mfeketo and ANC NEC members and Bheki Ntshalintshali [Cosatu general-secretary] arrived and promised us service delivery."
"After the elections electricity poles were put in place and that gave us hope. But in August the project stopped because the municipality had no money to pay the contractor. Since then we have never heard anything."
"We are aware that Coronavirus is dangerous, but it is here for a short period, while we have been living under these dangerous conditions since 2000. We are 1,625 households with no electricity. We do deadly illegal connections that have killed more than 20 people. Some of our people were electrocuted, others were killed in shack fires.
"On wet days, ambulances and police don't come to our area because it is muddy. We have to push sick people with wheelbarrows."
"We have 40 communal taps and only 20 are working," he said.
"We have 152 serviced sites that were built in 2014. We wanted those sites to be given to elderly and disabled people. But the contractor left the project incomplete because the municipality could not pay it.
"We say to government: our living conditions deserve the same attention as Coronavirus," Ntsondwa said.
Nozigqibo Ntanga lost her 32-year-old son through izinyokas connections.
"My son Bulelani Ntanga was killed by izinyoka lines in 2018. My shack is next to the road and lines pass near it. He stepped over the izinyoka inside the yard and was electrocuted.
"He was not the only victim here. There many people who I have seen being killed by these illegal connections."
Police spokesperson Captain Andre Beetge said three buses had been torched by protesters. Commuters had apparently been told by protesters to get out with their luggage before the vehicle was set alight. "No one was injured. The police are monitoring the situation and the roads are opened."
Beetge confirmed that "many" people in Westville had been killed by illegal connections and shack fires. "The area is wet and cables are scattered all over," he said.
Joe Slovo Extension community leader Mziwoxolo Nduni said the two-year-old settlement of 500 households had only two taps and only one was working. After a protest last year promises had been made by municipal officials but "nothing has been done".
"We relieve ourselves in bushes and we stand in long queues for water," he said.
Mabhuti Ndoni, Bayland community leader, was not available on his phone.
Ward 36 councillor Nomonde Mhlobiso (ANC) confirmed that Westville people had been promised electricity by Mfeketo and Andile Lungisa, mayoral committee member responsible for infrastructure, engineering and energy. "But the project ended halfway because the municipality had no funds."
She blamed senior government leaders for making empty promises.
"The municipal budget was approved on 27 February. Now the people want the senior leaders to come and address them about their basic needs. They want to know when the electrification of shacks will take place in the entire metro. Throughout the metro, people are protesting because the electrification of shacks project has stopped," she said.
Ward 41 Councillor Simphiwe Tyukana (ANC) said, "People are fed up with empty promises by senior officials. They want electricity, water and toilets here in Joe Slovo that they were promised by previous Mayor Mongameli Bobani."
Lungisa slammed the "unnecessary" protests, "The Westville electricity project was stopped because we had no budget," he said. "Now we have a budget after the adjustment was done on 27 last month. Due to the Covid-19 lockdown we cannot say when the project in Westville will start. But as soon as we know what steps are to be followed after this lockdown, electrification will start in Westville."
He said the Bayland land belonged to the Department of Environmental Affairs and contained indigenous species. Alternative land would have to be found for the residents. He said he had met the residents three weeks ago and did not understand why they were protesting now.
"I have not interacted with Joe Slovo community. But there are plans for them in the next financial year," Lungisa said.