"Our government does not care about us - they only take care of wild animals"
Conflict between humans and wildlife in the Eastern Cape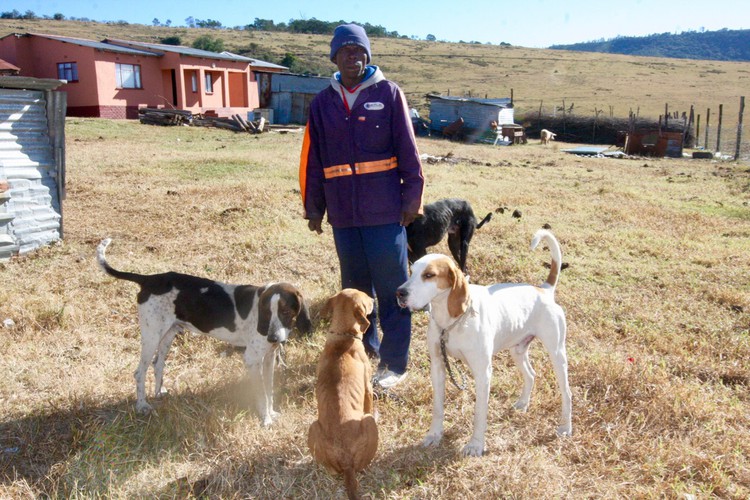 Residents of KwaGubevu Village near King William's Town in the Eastern Cape accuse wild animals of destroying their crops and eating their livestock. Most of the villagers survive by growing maize and raising animals and selling goats to people for traditional ceremonies.
Nikelo Makeleni says that since hunting has been outlawed by the government, wildlife has become a real problem. "In 2005 I was arrested by rangers … I appeared at King William's Town Magistrate Court." He got off he says because the rangers bungled the case. But the "people of my village stopped hunting after I appeared in court".
Vukile Tefi says he used to have more than 50 goats, but this year he says he has lost 25 to rooikat. On the night of 19 August he lost fou/r goats. "This wild animal does not eat the meat. It only squeezes blood and leaves a goat like that."
"Our government does not want us to hunt these animals but these bushes are not fenced so that our livestock can be safe," he says.
Nkosinathi Nkrwentela says, "I am suffering because our government does not fence our bushes so that our livestock can be safe and we are not allowed to kill these wild animals."
Nolusapho Daka has given up growing maize because warthogs destroy her crops. "Our government does not care about us. They only take care of wild animals … Our government does not even come up with a plan to chase away these wild animals," she says.
Eastern Cape Rural Development and Agrarian Reform referred GroundUp to Economic Development Environmental Affairs and Tourism (DEAT). Its spokesperson Tobile Gowa said people could apply for the right to hunt.
Local councillor Robert Desi said at a meeting held by officials from DEAT, residents of KwaGubevu were told they must not hunt wild animals as they were not trained to do this. He said: "If they want these animals to be killed they have to write a letter or go to the department and ask the rangers to hunt for them."
Dodgy people are suing us. Please support us by contributing to our legal costs and helping us to publish news that matters.
© 2017 GroundUp.

This article is licensed under a Creative Commons Attribution-NoDerivatives 4.0 International License.
You may republish this article, so long as you credit the authors and GroundUp, and do not change the text. Please include a link back to the original article.