No-show in RR Section by Disaster Management after flooding?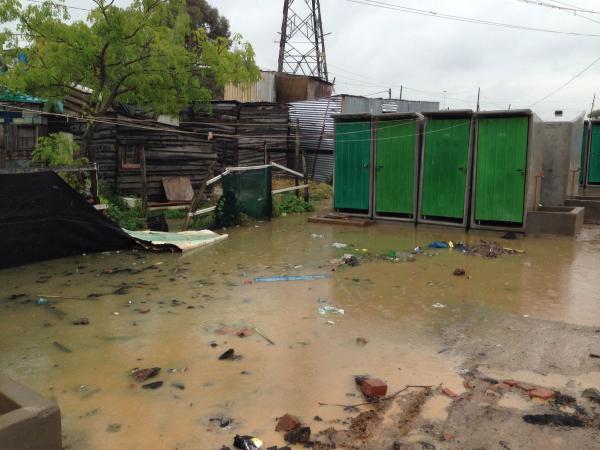 "When we called Disaster Risk Management on Saturday, they sent one man … He said he would be back in a couple of hours, with provisions for a hundred people, including sand bags and stones to protect houses from further water damage, as well as food. They never came back," says Luthando Tokota a community advocate with the Social Justice Coalition.
The approximately 100 residents of the 30 households affected by the weekend flooding in RR Section in Khayelitsha (all located near swamp land) have since had to move out. They are now for the most part staying with relatives and, according to Tokota, "waiting for the sun to shine" so that their houses and furniture can start the long process of drying.
"First, we want to know why when we call [Disaster Risk Management] does not meet its obligations. Second, we want to be assured that they will carry out their duty in the future. This is not our duty as residents, and we are not supposed to push them to carry out their work. In a place which experiences many fires and flooding, it seems as if they really are not prepared for the job," says Tokota
GroundUp emailed questions to the City of Cape Town's Disaster Risk Management at 2:36pm yesterday. We also attempted to contact the unit by phone. There has been no response. However, at 4pm two members of the Disaster Risk Management unit did go to RR Section (four days later).
"They brought blankets, 30 food parcels and 10 additional children's food parcels", said Zukiswa Qezo. Qezo says he questioned the team about Saturday's no-show but they did not respond. Meanwhile, Zukiswa said some displaced residents have started moving back into their flooded homes.
Disaster Risk Management has still not responded to GroundUp's emails and telephone messages.
Response by Disaster Risk Management
After this article was published, Wilfred Solomons-Johannes of Disaster Risk Management emailed the following response to GroundUp:
The incident was reported to the Disaster Operations Centre at 14:00 on Saturday 16 November 2013.
Disaster management officers were deployed immediately to the area to assess the report of alleged flooding.
It was established that less than 10 structures were slightly flooded. The other 20 structures experiencing discomfort due to the groundwater surfacing following the heavy rains as they community settled in a low-lying area.
The cause of the flooding was as a result of the occupants of the structures digging out the ground; and as a result of leaking due to the occupants not repairing damaged roofs. It must be noted that repairs and maintenance of private property is the responsibility of the owners and not of the City.
Furthermore, the structures were not flooded to the extent that the lives of the occupants were threatened, but that they only experienced discomfort levels.
The officials of the Disaster Risk Management Centre were accompanied by Justin Kramer of Social Justice Coalition (SJC) on Saturday; a community member by the name of Nonthando and two other females.
It is standard practice that during winter the City provides hot meals, blankets and sheltering (if required). However the community requested food parcels, which the City conceded to.
Historically Disadvantaged Individuals Support, the City's disaster relief agency, delivered the relief aid (food parcels and blankets) to the victims yesterday afternoon that was received (signed-off) by the community leaders, Zukiswa and Thenjiwe (Cell: 071 642 6203 / 078 866 464).
The incident did not constitute an emergency situation; therefore other areas were prioritized that was affected by the severe flash floods that required immediate assistance.
Dodgy people are suing us. Please support us by contributing to our legal costs and helping us to publish news that matters.
© 2016 GroundUp.
This article is licensed under a
Creative Commons Attribution-NoDerivatives 4.0 International License
.