No help for girl disabled by public toilet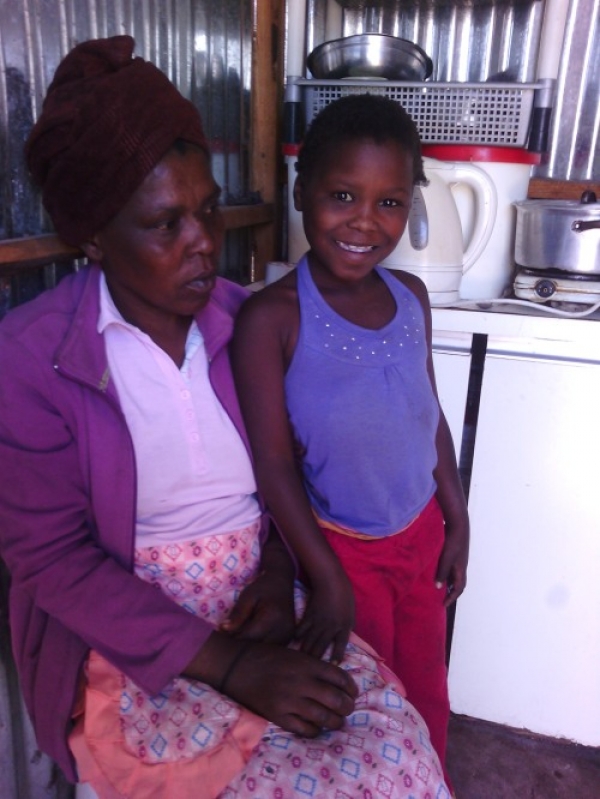 Chumisa Fudumele was seven years old when a toilet fell on her, leaving her disabled. A year later, her parents are struggling to get her back into a school.
On 7 March 2014, Chumisa was playing with her friends at the back of her house at Sweet Homes informal settlement near Philippi. It was a windy day and one side of a concrete toilet fell on her, injuring her head.
She was found by a neighbour, Portia Sibanda.
"I found her lying on the ground beside the toilet structure. She was unconscious and bleeding heavily through the mouth and nose," said Sibanda.
Chumisa's mother, Nomthandazo Fudumele, collects wild vegetables and sells them near her home. On her way back that day, neighbours came to tell her that Chumisa had been badly injured. "When I got to the scene, she was lying there and I was convinced that she was dead," she says. "I ran around the area looking for transport because the ambulance was taking too long to arrive, but fortunately we got to the hospital in time."
Fudumele said that at Red Cross Hospital she was told that her child was in a critical condition and that she would have to have a brain operation because she had blood clots in the brain.
After two weeks, Chumisa was transferred to Groote Schuur hospital for the operation. She stayed in the Intensive Care Unit for two months. When she was discharged, she was admitted to St Joseph's Home and then to Tembaletu school for the disabled in Guguletu.
Fudumele said Groote Schuur hospital helped her apply for a disability grant for Chumisa, who is now receiving R1,350 a month.
But she is not in school. Fudumele said she had been told Chumisa could not stay long at Tembaletu, because she was not physically disabled. And she cannot return to her old school, Khanya Primary in Mitchells Plain, because of her disability.
Fudumele said her daughter's arm and eye had been damaged and she had changed. "She was a very hyperactive and playful child who as young as she was would help out in the house. But now, it's more like she has gone back to being a year old. It hurts me that I cannot do more about her condition, other than keeping doctor check-ups up to date … She can't even play with other kids like before because now she is a little violent towards them," said Fudumele.
Sigomfane Marhasi, Chumisa's father, said his child did not behave the way she had before the accident. "When I ask her to do something, she laughs at me, uses strong language or just stares and sometimes asks who I am."
Acting Mayoral Committee Member for Utility Services Councillor Xanthea Limberg said City officials had visited the family. But no request for assistance had been received either by the Water and Sanitation Department or by the City's Claims section, she said.
"The City and the community are jointly responsible for maintaining the toilets," Limberg said.
Fudumele said she did not know anything about claims. She cannot read or write; she cannot read what is on her child's clinic card. She said City officials had not visited her since March last year, when Chumisa was still in hospital.
Limberg urged the family to follow the claims process and submit a claim to the City's claims section in writing.
Dodgy people are suing us. Please support us by contributing to our legal costs and helping us to publish news that matters.
© 2016 GroundUp.
This article is licensed under a
Creative Commons Attribution-NoDerivatives 4.0 International License
.