Nkandla residents rally to fix municipal toilets
"Next year we won't vote. We do not have a reason to vote."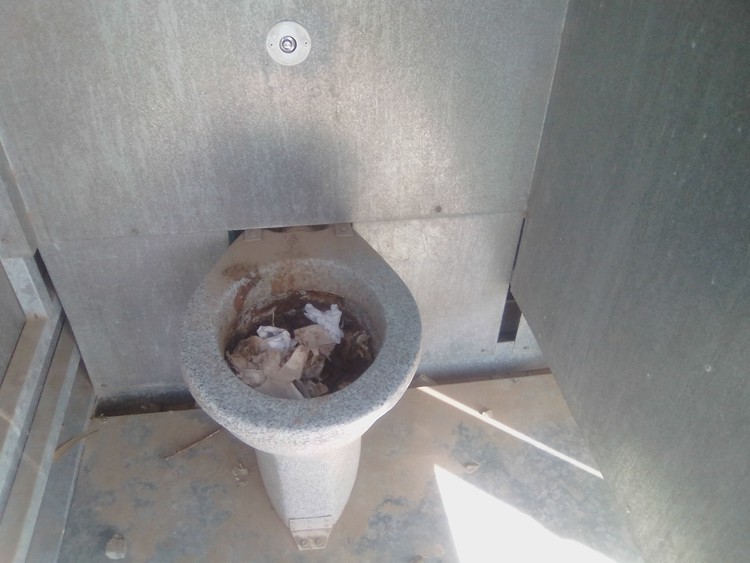 Residents in Nkandla informal settlement, East London, have taken it upon themselves to fix and clean their communal toilets. They say the municipality has neglected the toilets since they were installed in 2014, the same year the settlement was established.
When GroundUp visited the area on Monday we counted 23 toilets, 19 of which were blocked.
"This whole area only uses four toilets now, and even those don't work most of the time," said Simon Tshambuluka, who was among the first people to arrive in Nkandla.
He said the settlement has no street lights or electrification. "Earlier this year we buried our neighbour who was caught by a live wire while reconnecting illegal electricity (izinyoka) … We will continue using izinyoka because we need power."
"At night thugs do as they please because there are no lights. People get murdered, mugged and raped. No one is paying attention to our struggle," said Tshambuluka.
"The councillor made promises but she never delivered," he said.
It is for this reason said ward committee member Celiwe Tshambuluka that residents have decided to collect money to fix and clean the toilets. "After the toilets were installed, I volunteered to clean them myself. Since no one was employed to do that … Each household is contributing R20, once this is done we will buy material and fix our toilets."
Resident Amanda Ntozonke said, "It is painful because sanitation is a human right. Yet the municipality is [ignoring] it. We use the bush at night because the four toilets we depend on are always full. Come [elections in] 2019, they will remember that we exist and want us to vote. It is the only time we are relevant to the ANC," she said.
"We live a painful life here … the people are tired, and next year we won't vote in Nkandla. We do not have a reason to vote."
Ward councillor for the area Mendi Wetsetse promised to get back to GroundUp but has not answered calls since Monday nor responded to email. The Buffalo City Metropolitan Municipality communications office did not respond to questions emailed on Monday 22 October. Further attempts to get their comment have been fruitless.