The night run: how Zimbabwean traders are dodging suffocating import restrictions
"We are poor. We will go naked if we are prevented from importing cheap garments for resale."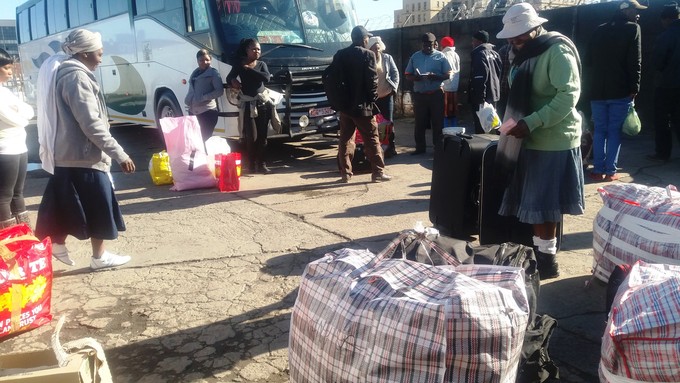 On 17 June Zimbabwe's authorities imposed restrictions on imports of foreign dental fillings, kitchen sinks, baby formulae, pencils and much more. Cross border vendors, dependent on this trade to survive, have become desperate.
Long distance buses with empty trailers can now be seen on the Zimbabwean side of the border. Angry traders set ablaze a warehouse full of seized tomato cans, blankets and farming implements at the Beitbridge border crossing in July, as police ran for cover.
According to Zimbabwe's Minister of Industry and Commerce, Michael Bimha the restrictions have been implemented to "allow our local companies to retool and increase production. It is temporary, and we will remove the law after some time."
Officers at Zimbabwe's land borders seize items like wheelbarrows, cement, or jars of olive oil from travellers and bus crews, and put these goods in warehouses. This has been a blow to informal traders who travel to South Africa or Mozambique to source cheaper food and clothes for resale, so that they too can buy food, medicine and send children to school. This way of making a living has become massive because, according to Gideon Shoko, the deputy secretary of the Zimbabwe Congress of Trade Unions, "The unemployment rate hovers close to 80 percent in Zimbabwe. Buying wares from abroad to resell is a lifeline for thousands." [See here for information on Zimbabwe's unemployment rate - Editor]
Traders have therefore subverted the restrictions by running goods at night from towns like Manica in Mozambique, located just 28 km from Mutare, Zimbabwe's eastern border town.
Manica is a major transport hub for land traffic crossing from Beira, on the Mozambican coast, to Zimbabwe, Zambia and onwards to Botswana. Here, 100kg containers of used clothes coming from the US or Europe known in the local lingo as "bhero" are what attracts small buyers from Zimbabwe.
The traders pool finances to buy the containers. Upon return to Zimbabwe the clothes are separated into smaller units of used underwear, ties and jeans for sale in street stalls, often next to large chains like Jet or Truworths.
If you cross back into Zimbabwe with "bhero" clothes now, the wares will be seized and destroyed according to finance minister Patrick Chinamasa.
Traders and transport couriers are finding ways around the ban though. For a fee of $40 (almost R550), in Manica, shoppers from Zimbabwe give their clothes, bulky food or potato bags wares to "night couriers" and return home to Zimbabwe, appearing to be empty-handed when they get to immigration controls.
"We try as much as possible to appear like holiday travellers not small trade importers," says Chiko (not his real name), a 34-year-old Zimbabwean and informal vendor who for the past four years has earned a living, buying crates of eggs and baby powder from Mozambique for resale. His job as a security guard ended after one of Zimbabwe's larger companies retrenched workers. "We pay $40 fees to van drivers on the Mozambique side of the border, abandon our goods to them, and return home as if we got nothing."
Joao (name changed), 45, a veteran Mozambique van courier, who employs three drivers to manage his old Peugeot trucks, says the law-busting scheme runs like this: Unregistered van runners, connected to border custom officers on the Zimbabwe side, stay behind with shoppers' goods. Through bribery and deal making, these van runners smuggle goods on behalf of departed shoppers – only at night time – past the immigration controls. "I call my drivers 'runners' because they run customers' wares at night," says Joao.
Why night time delivery? "Because Zimbabwe´s highway police are usually absent at night, and 'fees' are easier to negotiate."
Some officers accept gifts and bribes to ease the good-carrying vehicles through. A senior immigration officer at the Mutare/Mozambique Forbes border crossing, Richard Tambandini, says sometimes they watch helplessly as some trucks enter Zimbabwe without clearance and dealers use irregular pathways to dodge import bans.
Last week Zimbabwe police bosses in Harare relocated 600 officers away from the Beitbridge border crossing because of the suspicion that some of them were involved in corruption and the warehouse burning incident.
Once inside Zimbabwe, the runners make door-to-door errands, distributing goods to their customers. An enterprising night-time import courier industry is taking shape, creating jobs and new profits. It is dangerous work though. "My 'runners' must drive at tremendous speeds at night and slip back to Mozambique before dawn," says Joao.
"The runners are a relief," says Stella (name changed), 39, a widowed mother of two. She supports her family by importing baked beans and hair weaves from Mozambique for resale at one of the many street tables that dot Mutare. "At 2am you hear the courier from Mozambique zooming, drivers knocking at your door, paper list in hand, delivering buckets of flour, bags of shoes, packets of candles from Mozambique."
"We are powerless after this ban. We are poor. We will go naked if we are prevented from importing cheap garments for resale," says Stella.
Her anguish is shared by Promise Mkwananzi, a prominent human rights activist and director of the Zimbabwe Informal Sector Traders Organization: "It is because of compelling hardships and economic collapse that people try to defy imports of second hand clothes and food. We must address the symptoms of these hardships, and attract investors so our people stop being cross-border vendors."
He says, even well-educated teachers, nurses or churchmen are trying to beat the bans on imports. "Professionals are also desperate to buy second hand clothes from Mozambique. The pain is serious."
But some lawmakers support the restrictions. In 2015, Priscilla Misihairabwi, an MDC legislator, waved used underwear inside Parliament in a bid to ban imports of used undergarments for fear that they would bring disease to poor women. [There is no infectious disease that would survive after the underwear are washed. - Editor]
But police say vehicles that distribute illegally imported wares will be seized. Spokesperson Charity Charamba admits this is challenging: "It is hard to arrest people selling used clothes or building tools. We have no proof the items were sourced abroad."
Runners like Joao are not deterred though. "If we obey these bans, drivers will be out of work in Mozambique. On the Zimbabwe side, our customers complain they can't buy simple shirts that cost $45 each. These night time deals are a way of finding common purpose."
© 2016 GroundUp.

This article is licensed under a Creative Commons Attribution-NoDerivatives 4.0 International License.
You may republish this article, so long as you credit the authors and GroundUp, and do not change the text. Please include a link back to the original article.