National minimum wage up by 9%. But soaring food costs means this is not enough, say unions
Call for Department of Employment and Labour inspectors to enforce the minimum wage law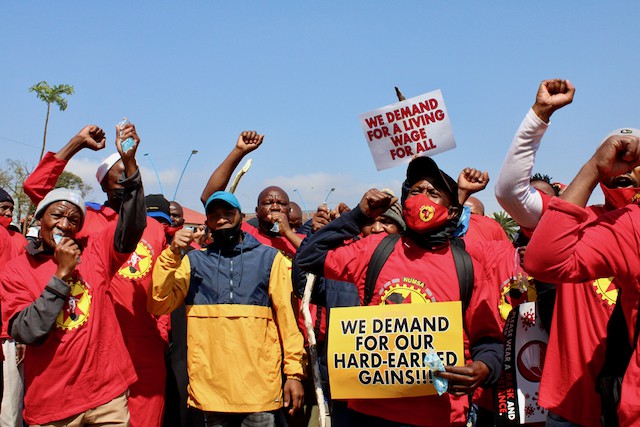 South Africa's national minimum hourly wage rate increased by 9.6% on Wednesday.
While this is above consumer price inflation, soaring food prices and the cost of living means it is still not enough for many workers.
Labour activists and unions have criticised this increase as a "political attack on the working class".
COSATU has called for the labour minister "to compel employers to comply with this increase without failure."
On 1 March, South Africa's new minimum hourly wage rate came into force, rising 9.6% from R23.19 to R25.42 per hour. This rise is above consumer price inflation (CPI) of 6.9%. But with food inflation rates of 13.4% in January 2023, which affects poor people disproportionately, labour activists at the Casual Workers' Advice Office (CWAO) have called the increase a "political attack on the working class".
From 2022, the minimum wage for domestic and farm workers is the same as for general workers. Workers on the expanded public works programme (EPWP) now receive an hourly wage of R13.97 per hour worked.
"Many EPWP workers have been deployed for the past 14 years as casual street cleaning workers in townships, hired for just two days a week each, keeping the townships clean in the absence of a municipal workforce which has been whittled away by austerity budgets over the years. This means that in reality, there are many EPWP workers who earn just R856 per month for doing this valuable work," said CWAO in a statement.
But many workers will not feel the effect of the increase, despite it being above CPI. According to the CWAO, many minimum wage workers are not given enough hours for a full month's work.
The organisation said that even at this increased rate, those that work full eight-hour days in a month are left short. Those working 176 hours per month for a minimum of R4,474 will not earn enough to cover the cost of basic household food basket, which is about R4,928 per month, according to the February 2023 Household Affordability Index, published by the Pietermaritzburg Economic Justice & Dignity Group.
The cost of essential food items has been rising at a worrying rate, according to Statistics South Africa's figures for January 2023. Year-on-year, the price of onions has risen by 48.7%, maize meal by 36.5%, cake flour by 31.6%, and samp by 29.6%. The price of bread and cereal have risen by 21.8% in the last year, while the price of vegetables have risen by 14%. In January 2023 alone, the price of potatoes rose by 15.1%.
Eunice Dhladhla, of the South African Domestic Service and Allied Workers Union (SADSAWU), said the union was thankful for the increase, but "we cannot say it's enough".
Dhladhla said that many employers do not want to comply with the minimum wage laws. She said SADSAWU knows of cases where employees earn as little as R1,500 for working more than nine hours for a full month's work, with no overtime paid to those workers.
"What is sad - workers are afraid of dismissal. Some employers won't discuss the matter with employees, saying 'you're getting clever'," she said. She called on inspectors at the Department of Employment and Labour to do more to enforce the law.
Pinky Mashiane, president of United Domestic Workers Of South Africa (UDWOSA), told GroundUp, "We're not excited about the national minimum wage. For those who are underpaid, it is not a living wage. A person cannot live on R4,000 a month. Most employers don't know how domestic workers are suffering."
Mashiane said that the national minimum wage increases were further undermined by poor enforcement. Mashiane cited cases where domestic workers received less than the monthly minimum wage despite working nine-hour days, five days a week, and one case where a labour department official in Boksburg refused to register a domestic worker's complaint.
COSATU in Gauteng, in a statement, welcomed the increase but called it "a drop in the ocean compared to the daily needs basket of the workers". The union also called on the labour minister "to compel employers to comply with this increase without failure, by vigorously implementing inspection and enforcement".
The Department of Employment and Labour did not respond to GroundUp's questions by the time of publication.
© 2023 GroundUp. This article is licensed under a Creative Commons Attribution-NoDerivatives 4.0 International License.
You may republish this article, so long as you credit the authors and GroundUp, and do not change the text. Please include a link back to the original article.
We put an invisible pixel in the article so that we can count traffic to republishers. All analytics tools are solely on our servers. We do not give our logs to any third party. Logs are deleted after two weeks. We do not use any IP address identifying information except to count regional traffic. We are solely interested in counting hits, not tracking users. If you republish, please do not delete the invisible pixel.