"My shack is a breeding ground for rats" says Duncan Village resident
Piles of garbage in the area have not been collected since September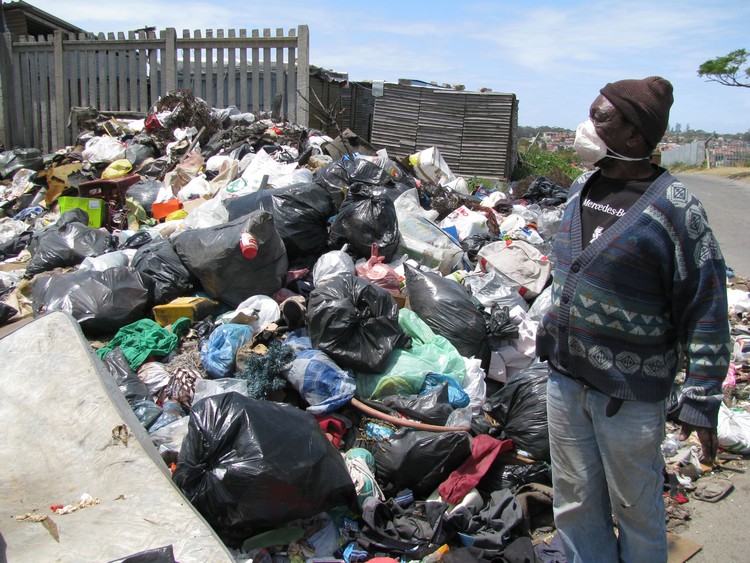 Rubbish has been piling up in the streets of Kwinana informal settlement in Duncan Village, East London. Residents of Area 10 say their garbage has not been collected since September.
"My shack smells like a pigsty, especially when it is hot. Some rooms are a breeding ground for rats. They come from the garbage and hide inside my shack," said resident Ndoyisile Jubati, whose shack is situated near a pile of rubbish.
He lives with his wife and their three young children. "My children have rashes and we have a lot of mosquitoes. I saw the refuse truck pass by this rubbish last week. When I asked them when it will be taken away? They said 'soon', but until now no one has come," he said.
Jubati said the community felt neglected by the municipality because they were still without adequate sanitation and electricity. "We have never had any service here. We steal electricity through Izinyoka," he said.
Luvuyo Msuthu, a committee member in the area, said that hundreds of residents living in over 400 shacks had to share one tap and two toilets. "This is an insult. The ward councillor says she tries to address our needs but we don't see any difference. No one from here ever gets an RDP house," he said.
Msuthu said one of the two toilets has been blocked for a long time. He said there was often chaos around the tap and toilet. "We behave like hooligans just to access our basic rights. Others use buckets at night and dump human waste on the road behind my shack. I have given up complaining about the filth in this place," he said.
Ward 2 councillor, Ntombizandile Mhlola, said she was aware of the uncollected rubbish and has reported it to the solid waste department.
"They said that as soon as a dirt truck is available, it will be sent. I am not sure why refuse is still piling up there," she said.
Mhlola added that contractors were making their way through Duncan Village to fix the toilets in the settlement. "I have also seen them busy in areas like Hostel and Zakhele. There are many people and toilets that need servicing. I advise residents to be patient," she said.