Poorly built municipal housing project may face demolition
Beneficiaries fear the double-storey dwellings will collapse on them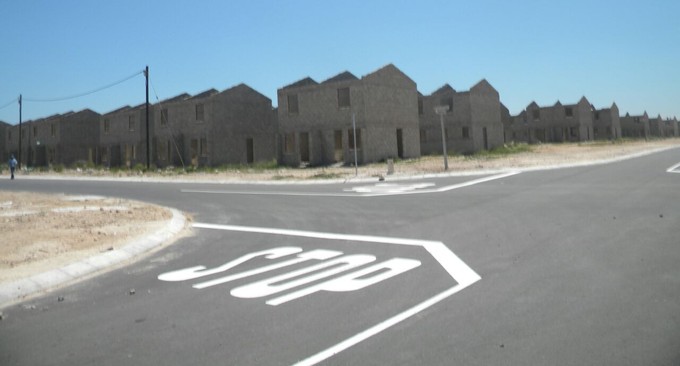 Some 162 double-storey units constructed by Nelson Mandela Bay Municipality in Motherwell, NU 29, at a total cost of R17 million will probably have to be demolished.
Housing beneficiaries were expected to have moved in by 2015, but the condition of the structures is so poor that the majority of the allocated flats are empty. Vandals have stripped the unoccupied houses. Roofs, doors, windows and window panes, as well as wooden materials meant for the ceilings and floors have been stolen.
A 67-year-old resident said, "I have been on the housing waiting list for many years and when my application was approved I was overjoyed because that was a dream come true. However, my happiness was short-lived upon arriving here last year.
"The walls leak … The ceiling is not stable and makes an irritating noise whenever somebody is walking on the upper floor.The sound is so disturbing that you think the house is collapsing on you. The doors are not strong and anyone can open from outside.
"The problem is the municipality told us not to fix anything."
Derrick Ngilozi, 42, is living in his aunt's flat. He looks after her three children and an 87-year-old grandmother. "We moved into this house last year in July. The main problem with these flats is that they are made up of poor materials.The window panes are loose and there are big gaps under them that allows rain into the houses.
"The staircases are very steep so old people and the sick cannot climb them. Besides that, the stairs are made of poor wooden material. They are noisy and can break easily.
"We only appeal to the municipality to rebuild these houses because they are a disaster in waiting. I don't see these structures lasting more than five years without disaster striking."
Ngilozi said they had been living in Motherwell, NU 10, in the informal settlement of Powerline. "It was better there, because we never feared for our lives when in the shack. I always wake up at night here and pray to God not to let the house collapse."
Nelson Mandela Bay Municipality Spokesperson Mthubanzi Mniki said they were waiting for a report to be completed by the National Home Builders Registration Council (NHBRC).
"Some of the units are covered by NHBRC. This means that those are covered under their insurance for five years for all defects. Hence it was important to wait for their report and investigation."
Mniki said the report will be completed in November. An internal forensic audit, commissioned by the City Manager, is also underway.
"Once all investigations are completed, a plan to recoup all fruitless and wasteful expenditure from all implicated individuals, contractors etcetera will be tabled," said Mniki.
© 2016 GroundUp.

This article is licensed under a Creative Commons Attribution-NoDerivatives 4.0 International License.
You may republish this article, so long as you credit the authors and GroundUp, and do not change the text. Please include a link back to the original article.