Thabo Bester escape: ministers and officials scramble to answer MPs' questions
"I did everything I was supposed to do" says Minister of Justice Ronald Lamola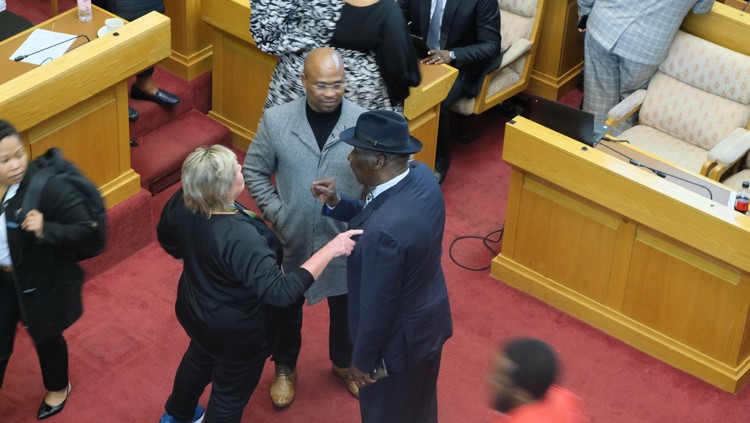 MPs questioned why the public was not informed earlier that convicted rapist and murderer Thabo Bester had escaped from prison.
Judge Edwin Cameron revealed that he had given information to GroundUp in October last year.
Thursday's briefing was twelve hours long and more people are expected to appear before the committee in the coming weeks.
"It's an absolute disgrace and you should hang your head in shame. All of you."
These were the words of DA MP Glynnis Breytenbach during the second day of the parliamentary briefing on Thabo Bester's escape from Mangaung Correctional Centre.
On Thursday, ministers and top officials from the Judicial Inspectorate of Correctional Services (JICS), the South African Police Service (SAPS) and the Department of Correctional Services (DCS) faced questions from MPs in the Parliamentary Committee on Justice and Correctional Services on their investigations into Bester's escape.
"If Bester had murdered another woman, raped another woman, what would you have said then?" Breytenbach asked Police Minister Bheki Cele.
"I'm not a speculator," Cele replied.
MPs from all political parties challenged SAPS, DCS and JICS on why they decided not to inform the public of Bester's escape when suspicions were raised in October 2022. They also criticised the SAPS and DCS for dragging their feet investigating the matter.
JICS
JICS' Inspecting Judge, Edwin Cameron, revealed to the committee that he had given information to GroundUp in October last year. This was after he had written a letter to the Minister of Justice Ronald Lamola informing him of his suspicion that Bester had escaped. Cameron, who is a GroundUp board member (an unpaid position with no role in the organisation's editorial decisions), said he gave GroundUp information that was publicly accessible.
Cameron commended the work of two SAPS officials, Constable Legoa and Brigadier Tsoai, for doing crucial work in stopping Bester's partner Nandipha Magudumana from cremating the body found in Bester's cell.
Legoa had noticed Magudumana's repeated attempts to claim three different bodies from the state morgue, and Tsoai had ensured that SAPS opposed Magudumana's High Court application to have the body found in the cell returned to her.
Asked about the slowness of investigations, Cameron said that G4S did not fully cooperate and made it difficult for the authorities to investigate the matter. G4S told the committee on Wednesday that they only received a copy of the autopsy report in January 2023.
But Cameron disputed this, saying he had formally told G4S about this in November. "They knew long, long beforehand but were closing their eyes to it," he said.
Cameron also said everyone's disbelief that Bester's escape could be true, was "a drag on all the investigations". Lamola later told the committee that when Cameron first told him of Bester's escape, he had to sit down - he could not believe something like that could happen in South Africa.
ANC MP Qubudile Richard Dyantyi asked Cameron how the G4S-run prison in Bloemfontein compares to other prisons in the country. Cameron said that there is "rottenness and degradation" at the prison. He said that while the infrastructure is of a better standard, "there is functionality that is rotten."
"Thabo Bester's escape could not have occurred without degradation," Cameron said.
SAPS
"We investigate to arrest, not arrest to investigate," Free State Police Commissioner Baile Motswenyane told the committee. She said that the investigation has been a difficult one.
MPs did not buy it. While they commended SAPS on the arrest and deportation of Bester and Magudumana, they lambasted SAPS for its handling of the matter.
During SAPS's briefing it was revealed that Magudumana had tried to claim three bodies from the state morgue. She claimed the first body was her father. She claimed the second was the brother of a friend, and the third was her customary law husband. GroundUp understands that this third body was the one that was found in Bester's cell.
ANC MP Anthea Ramolobeng asked about the fraudulent documents used by Magudumana in her court application. Motswenyane confirmed that the police officer who authorised Magudumana's affidavit had been dismissed from SAPS before the affidavit was stamped and signed. She said that the fraud is being investigated.
"SAPS has been a passive partner in this investigation," Yoliswa Yako (EFF) said. She asked why Magudumana was not taken into custody earlier when they knew she was fraudulently claiming bodies.
"Your role was to investigate. You had information. You had a body, and yet you did nothing," Yako said. Motswenyane simply responded that the investigation is at an advanced stage.
ACDP MP Steven Swart said that the public should have been informed much earlier that a "serial murderer and rapist" was at large. National Commissioner of Police Fannie Masemola acknowledged that SAPS should have notified the public earlier.
Correctional Services
Justice Minister Ronald Lamola apologised to the victims of Thabo Bester and the people of South Africa that Bester had been let loose. Asked by DA MP Janho Engelbrecht if he was going to resign, Lamola said he was not. "I did everything I was supposed to," he said.
Lamola said that after Cameron informed him in October of Bester's suspected escape, he spoke to the National Commissioner who assured him that the matter was receiving attention.
National Commissioner of Correctional Services Makgothi Samuel Thobakgale was asked by Swart why the public was only informed of Bester's escape in March, when a case of escape had been opened with SAPS on 16 January. Thobakgale replied that he only became aware of the case during a briefing on 23 March.
Thobakgale also revealed that, after the fire, they had been able to reach Bester's uncle, who was listed as Bester's next of kin. This contradicts what G4S told the portfolio committee on Wednesday. G4S said then that they could not reach the uncle, so they contacted Magudumana to collect Bester's belongings.
Parliament was also informed that Bester has been positively identified since being recaptured, both by matching his fingerprints with those on record, and by people who knew Bester identifying him.
© 2023 GroundUp. This article is licensed under a Creative Commons Attribution-NoDerivatives 4.0 International License.
You may republish this article, so long as you credit the authors and GroundUp, and do not change the text. Please include a link back to the original article.
We put an invisible pixel in the article so that we can count traffic to republishers. All analytics tools are solely on our servers. We do not give our logs to any third party. Logs are deleted after two weeks. We do not use any IP address identifying information except to count regional traffic. We are solely interested in counting hits, not tracking users. If you republish, please do not delete the invisible pixel.