Minister's promise to review Zimbabwean permits welcomed
|
Bernard Chiguvare
Brief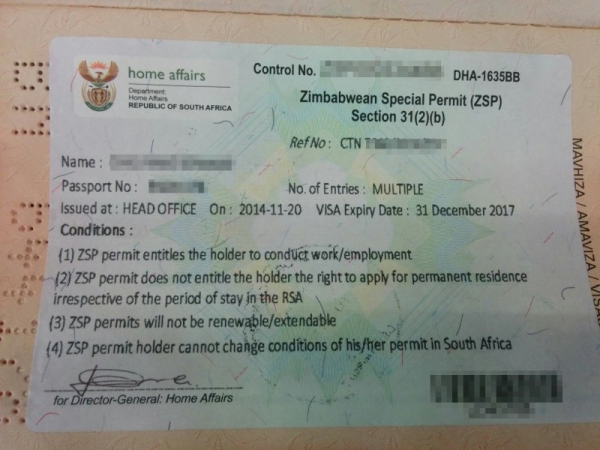 The promise by Home Affairs minister Malusi Gigaba that rejected applications for Zimbabwean Special Permits are to be reviewed has been welcomed.
At a briefing on 24 August, Gigaba said all the 12,228 rejected applications would be reviewed.
The announcement was welcomed by People Against Suffering Oppression and Poverty (PASSOP) and affected Zimbabweans.
"PASSOP appreciates the minister's statement about the review. We have been communicating with the department from April this year about a review of rejected applications," said Bernard Toyambi, head of the paralegal team.
PASSOP said about 300 Zimbabweans had approached its office for advice after receiving rejections.
According to PASSOP the whole ZSP application process has been faster than the previous 2010 Dispensation for Zimbabwean Permit (DZP) "We believe the department has improved greatly compared to the time spent in 2010."
This time within a period of about six months they managed to adjudicate about 99.7% of the applications. This is great and is worth commending," said Toyambi. In total Home Affairs received 198,032 ZSP applications, of which 197,303 have been adjudicated and 729 are still to be attended to.
But Toyambi said he was worried about the announcement that the cutoff date for collection of the permits was 30 September 2015. He did not think the review process would be complete by then.
Tony Mbatau, whose application was rejected, said: "I feel happy about this announcement. I had completely stopped all my plans. Now I'll wait to see the outcome of the review."
"I appreciate the decision taken by the government. I can only be happy after the results of the review," said Nothando Moyo, who works in a hotel in Cape Town.
© 2016 GroundUp.
This article is licensed under a
Creative Commons Attribution-NoDerivatives 4.0 International License
.