Metrorail diary: Thursday
Another chaotic day trying to get to work in Cape Town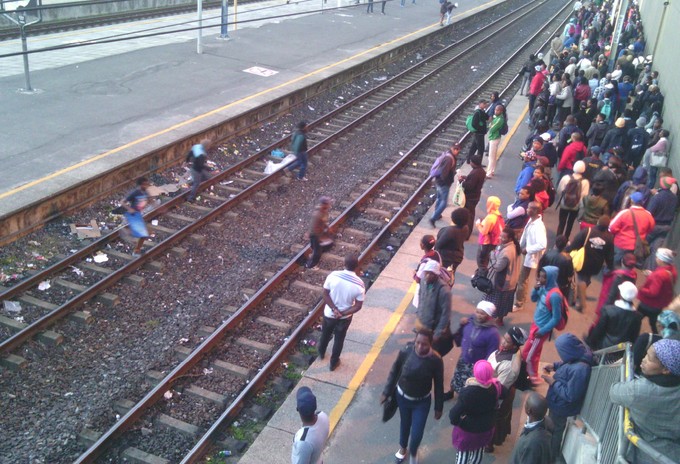 In the third of a series of short reports, Bernard Chiguvare describes his daily battle to get to work using Metrorail.
On Monday and Tuesday I was delayed because of Metrorail. Today followed the same pattern.
I always start the day by checking Metrorail's website. Today it announced major delays on the central line due to vandalism and arson. Delays of 40 to 50 minutes were expected. A colleague of mine who takes the Southern line to work at GroundUp was delayed in Steenberg where a man was knocked and killed by a train.
This morning I arrived at Nyanga Junction at 6:58 am. Two fully packed trains heading for Cape Town arrived at 7:06 am and 7:09 am. They did not stop.
At 7:21 am a train from Khayelitsha to Cape Town stopped but I could not manage to push my way on. I had to let it go.
Because of confusion over which platforms the trains would arrive at, people were jumping onto the tracks to cross from one platform to another.
I managed to squeeze onto the 7:48 am train. It arrived at Salt River at 8 am.
Metrorail announced that the 0135 train from Cape Town to Retreat had been cancelled for technical reasons and the next train would be at 8:16 am. But it actually arrived at 8:22 am. I arrived at the GroundUp office in Rondebosch just before 8:50 am.
Dodgy people are suing us. Please support us by contributing to our legal costs and helping us to publish news that matters.
© 2016 GroundUp.

This article is licensed under a Creative Commons Attribution-NoDerivatives 4.0 International License.
You may republish this article, so long as you credit the authors and GroundUp, and do not change the text. Please include a link back to the original article.