Meat rots in fridge as Zandspruit electricity connections cut
Angry residents protest again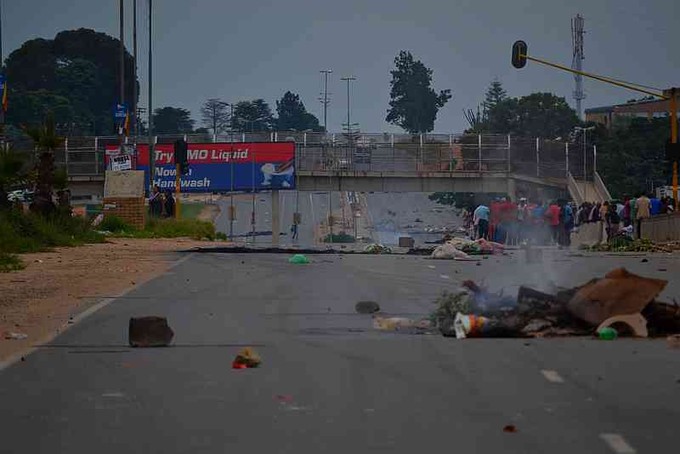 Residents of Zandspruit informal settlement in Johannesburg have demanded that Mayor Park Tau come to them to address their demand for electricity connections.
The residents are demanding electricity after Eskom cut several illegal connections last week Wednesday and again on Monday.
Residents took to the streets for a third time on Wednesday morning, spreading rocks across the road and setting fire to tyres and debris. By the afternoon, the burning rubbish was still smouldering. Several shops, including a liquor store, were looted. Part of Beyers Naude Drive was closed to traffic.
Alphious Mashile, one of the leaders of the group, told GroundUp that residents were willing to overlook poor sanitation and lack of housing in Zandspruit, if the community could have access to electricity.
"It (the protests) started again because one of us discovered the meat that was bought turned rotten in the fridge because there was no electricity."
Mashile's statement prompted a cry from another protester who said the residents couldn't live like that any more.
Another leader of the group, who told GroundUp he didn't want to be identified for fear of reprisals because of "sell outs in the community", said the living conditions in the informal settlement had been the same for more than 20 years.
Two police Nyalas and several response teams were at the scene on Wednesday afternoon.
Matshidiso Mfikoe, member of the mayoral committee, visited the residents but they said they wanted to speak to the mayor.
Spokesperson for the mayor, Phindile Chauke, said the mayor's office had not received any communication from the Zandspruit community regarding a meeting with Tau.
She said the mayor reserved one day a week to address community issues.
Nkosinathi Nkabinde from the City of Johannesburg said that City Power, Eskom, JMPD and SAPS had conducted a joint operation to remove illegal connections in Zandspruit last week." Illegal connections put community lives at risk, as there is inadequate protection against live wires, Nkabinde said.
"City Power daily contends with unscrupulous individuals who offer illegal connection services in poorer communities. These individuals have turned this activity into an entrepreneurial venture."​
"It is from public light poles and transformers that some of the illegal connections draw the power. Over 13,500 kilograms of cables was ripped from the ground and from the poles which were removed."
© 2016 GroundUp.

This article is licensed under a Creative Commons Attribution-NoDerivatives 4.0 International License.