Mdantsane construction workers strike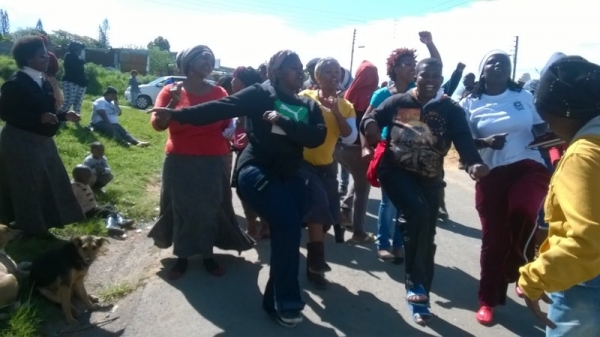 Construction workers in Walter Sisulu in Mdantsane are refusing to work on the RDP houses being built by the municipality, claiming they are being underpaid.
The workers say they are paid R2,800 per house, which they then have to divide among themselves. Bricklayers are making R1,000 a month and assistants R400, they say. The workers are demanding at least R100 a day. There is no minimum wage in the building industry in East London.
Following a march last week in support of the workers and to protest against what they say is the poor quality of the houses, residents arranged a meeting with ward councillor Sakhumzi Caga, the workers, the construction company Siyavuna Trading and the sub-contractor who identified himself as Thokozani Mnisi. But Caga did not arrive for the meeting.
GroundUp visited other Siyavuna Trading sites around Mdantsane. According to workers there, bricklayers are paid R120 a day and assistants R100 a day. However Mnisi denied this, saying all workers were paid the same.
He said he paid his workers R2,800 per house and that would not change. Siyavuna Trading, which describes itself as "a 100% black female owned construction company" is fully owned by its founder, Thembekile Cynthia Mnisi.
The wage rates in this article were corrected on 21 October 2015.
Letters
Dear Editor
I am Anele from NU8 Mdantsane. I am currently working for a sub-contractor under Siyavuna trading which is known as Kojamo construction. We as the workers are not satisfied about the way that we are being paid. Labours get 400 rands per unit and the Bricklayers get 1000 rands per unit. I totally disagree with these payment method as the government has invested a lot of money in this project. We need somebody who can resolve these payment issues in a decent manner. We as the community and workers would really appreciate the press and workers from the department of Labour to come and see for yourselves that even here in NU8 they are still doing the same thing to the people. Our site is nearby a junior primary school named Phumelelani. Your input and efforts in this issue will be highly appreciated.
© 2016 GroundUp.

This article is licensed under a Creative Commons Attribution-NoDerivatives 4.0 International License.