Masiphumelele parents want kids back in schools
|
Thembela Ntongana
Brief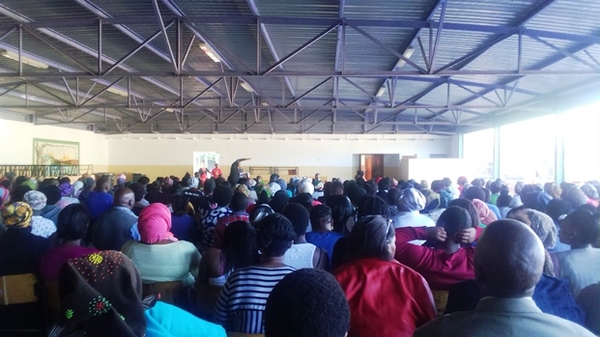 On Wednesday, over 300 parents of children going to Masiphumelele High School and Ukhanyo Primary School attended a meeting organised by student governing bodies (SGB) of both schools and the Masiphumelele Youth Development Forum to discuss a way forward to make sure children do not miss any more schools days due to protests.
SGB chairperson Phumzile Maqala said, "It is up to us as parents to find a way forward because at the end of the day it is our kids that will suffer."
One parent, Luyanda Mgqamqo, said the community needed to first understand where the anger came from and to find a better way to protest. "I don't think our kids like seeing us being shot like animals. We should do a peaceful protest even if it's a sit in … We want answers … We cannot march to ourselves and destroy things."
"The councillor needs to take responsibility," said Mgqamqo. He said things needed to be done differently and that residents and the neighbouring communities should work together as they were all affected.
Parents stood up one after another saying they were frustrated and they wanted their kids back in school.
Principals of Masiphumelele High and Ukhanyo Primary, Mncedi Nelson Mafrica and Phuthumile Micheal Tyhali, addressed the parents.
Mafrika explained the situation of Grade 12 children who have been moved from their homes in Masiphumelele to Westlake Primary for the duration of the exams because of the violence. They had to wake up early in the morning and go to the Westlake community hall to make way for the kids going to Westlake Primary during the day. Teachers and invigilators also had to sleep overnight with the Masiphumelele children.
"We have now found a bigger place in Glencairn, and as of today have moved the kids there. They are hungry and they need food," said Mafrika.
Tyhali had words for the parents, saying, "We have a problem and as teachers we ask ourselves, if something happens to these kids and the roads are blocked, what will we do? … We have kids who come for treatment at the school every day, because clinics are closed. We have kids that are coming from poor homes and depend on our feeding schemes … We have funders that are helping us build the school and providing bursaries for our kids, but every day we are losing them [funders].
"These kids are doing what they see you do, they want to protest at school [too]," said Tyhali.
© 2016 GroundUp.
This article is licensed under a
Creative Commons Attribution-NoDerivatives 4.0 International License
.