Masiphumelele activist jailed for breaking bail conditions
Lubabalo Vellem also accused of stabbing police van tyres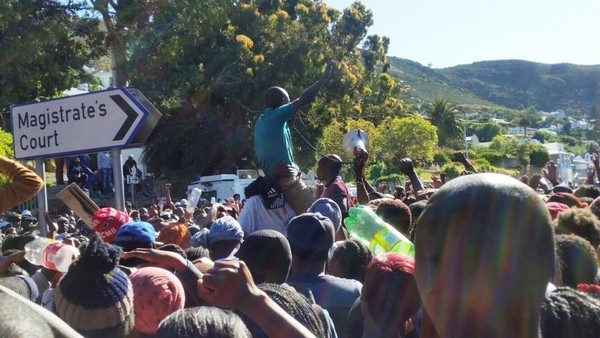 Lubabalo Vellem, who was arrested during the unrest in Masiphumelele late last year when residents were protesting for better policing, has been arrested again for breaking one of his bail conditions and for malicious damage to property.
Vellem was arrested on Friday in Khayelitsha, where he stays with his sister. One of his bail conditions was that he not return to Masiphumelele unless granted permission by the magistrate for his clinic visits.
He had been allowed to return to the area a couple of times for clinic visits as well as for a memorial service.
Vellem was reported to have been in Masiphumelele in disregard of his bail condition. He is also accused of stabbing the tyres of a police van while there.
Yesterday, he appeared at the Simon's Town Magistrate court. The magistrate questioned why he was only arrested two weeks after the incident. Vellem pleaded not guilty to both charges and was released on R500 bail.
At the same time he was supposed to appear in the Wynberg Regional Court to set the date for an attempted murder charge he is facing. But since he was in Simon's Town, he didn't attend the Wynberg court hearing. The Wynberg judge consequently postponed the hearing till 14 December and handed down a warrant for Vellem's arrest.
Letters
Dear Editor
Please note that Lubabalo Vellem was only held in custody over a weekend whilst waiting to appeal for bail last Monday.
The Magistrate commented that he has never missed signing at Khayelitsha SAPS for the past year, three times a week.
She also noted that he has been allowed into Masi to vote, to attend a memorial service and to visit the clinic once. He was also allowed to spend time with his daughter that day.
The Magistrate questioned why SAPS took 2 weeks to arrest Vellem and was told that SAPS feared violence in Masi.
SAPS could not comment on the length of time taken to arrest him.
The Magistrate asked whether there has ever been problems when Vellem had been in Masi or after he was arrested two weeks ago and SAPS confirmed that neither had caused any problems or unrest.
Vellem denied guilt and will appear again in Simon's Town on 20 December 2016.
He is free to stay in Khayelitsha as per his bail conditions and is at his usual place of work every day.
He as not been "jailed".
Please add these details to your story so as to avoid sensationalism and to give a complete and correct account of the situation.
Many thanks.
© 2016 GroundUp.

This article is licensed under a Creative Commons Attribution-NoDerivatives 4.0 International License.
You may republish this article, so long as you credit the authors and GroundUp, and do not change the text. Please include a link back to the original article.