Sibusiso Mavuka has spent ten years in prison, and appeared in court 91 times. He has never been convicted of any crime.
Mandela's 100th birthday is a time for us to reflect on our criminal justice system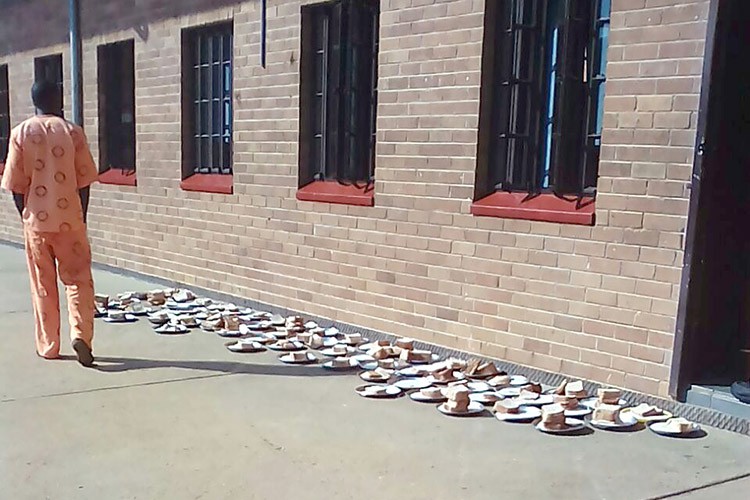 Sibusiso Mavuka's youngest child was only five months old when he was first arrested along with eight other men and placed in detention in Johannesburg's "Sun City" prison. His son is now ten years old, and Mavuka has watched two of his fellow accused die in custody – yet he has never been convicted of any crime.
Mavuka appeared in court 91 times before he gave up trying to keep track of his appearances. He and his co-accused have suffered almost endless postponements for various reasons. Because their cases are being heard together, all six of them need to be present at every court appearance. So do all their lawyers. Every time one of them is ill, or they are not brought to court on time, or one of their lawyers can't be there, the case has to be postponed yet again – often for several months at a time.
And that's when they have consistent legal teams. Mavuka has been forced to change lawyers at least three times because he couldn't keep paying private attorneys and had to find lawyers who would represent him free of charge. He is currently being represented by Legal Aid. Though he was arrested in 2008, his trial only began in October 2016 and has not yet been completed. Mavuka's case is a kind of perfect storm: everything that could go wrong has gone wrong and kept his trial date moving for over 11 years while he sits in prison.
But, his case is not unique. Mavuka is one of over 40,000 people in South African prisons awaiting trial – making up over a quarter of our entire prison population. Detaining any person on remand should be the exception rather than the rule, but this is not the case of most people entering our criminal justice system.
Instead, accused persons are often denied bail and forced to remain in prison. Granting bail requires weighing up factors like the likelihood someone will appear in court, how much they can afford to pay, the number of charges they are facing and the seriousness of the charges. Many people are denied bail for something simply beyond their control: the police have not been able to verify their home address and therefore do not know exactly where to find them if they do not appear in court.
In Mavuka's case, he has applied for bail a total of six times – with no success. Being denied bail has a huge impact on people's lives. It means that they are forced to remain in prison, often for several years and sometimes for crimes they did not commit. In some cases, they remain in prison for a longer period of time than the sentence they would serve if they were convicted. People who have not been convicted of any crime are forced to remain in overcrowded facilities which expose them to diseases like TB and HIV and poor treatment. This is in conflict with the principle that someone charged with a crime should be assumed innocent until proven guilty.
Both being forced to remain in prison and waiting years for a trial to be finalised are issues of access to justice. We have seen a few famous trials play out in the South African media, with men like Henri van Breda and Oscar Pistorius accused of very serious crimes. Many people have commented on the supposed lengthy postponements in these cases. But, compared to cases like Mavuka's, it is clear these cases which catch the popular attention are dealt with swiftly by our courts. Van Breda was convicted of murder three years after killing his family; Pistorius was first sentenced less than two years after his arrest. Both men spent those years out on bail.
They are the exception. Far too many people have a story like Mavuka's. Many arrested and detained persons are facing multiple constitutional rights violations. Mavuka and his co-accused will once again appear before the Kagiso Magistrate's Court on 26 September, when their trial will (hopefully) continue.
Nelson Mandela said: "No-one truly knows a nation until one has been inside its jails. A nation should not be judged on how it treats its highest citizens, but its lowest ones."
This year marks what would have been Nelson Mandela's 100th birthday. It is a year we have chosen to celebrate his legacy, to focus on his qualities as a leader and as a struggle icon. While much has changed since Madiba's 27 year detention for fighting apartheid, the conditions of our prisons and the treatment of our prisoners remain terrible.
As we come closer to the end of the Mandela 100 celebrations, we should take the time to reflect on the lives of persons who are imprisoned – many of them unjustly, just as Nelson Mandela was.
Letters
Dear Editor
As the Director of the newly formed Paralegal Association of SA (PALSA) I feel I must comment on this article. This situation and many like this could be addressed in a far more speedy and cost effective manner with more readily available access to legal assistance, if paralegals were allowed to assist or even practice independently.
In most countries around Africa and the world a paralegal is recognized, regulated and highly regarded and accepted as a legal professional. While they are utilized in various different ways in various countries, many times they are called on to assist with the process and the situation at police stations, criminal courts and in communities. While community paralegals do exist in SA they are often a token or a paper pushers or in other cases doing all the work but receiving no recognition for it.
The new LPA removed paralegals from the Act and the Justice Committee claims there will be a paralegal Act brought about (at some point in the distant future I fear). It has become clear to me after my meetings and discussions with various roleplayers in the LPA and its formation/role out, that there is a distinct attitude to not only deter paralegals from gaining any recognition and ground, but to ensure that they remain either "support staff" ( employees) or volunteers or sponsored community paralegals.
The latter will be required to work under a principle or a advice office, which while sounding tangible is fraught with problems.I have conversed with many of these "community" paralegals and on thing is clear, they are unhappy and frustrated. Legal Aid likewise if mostly candidate attorneys who either have no experience, or no real passion for what they are doing and have more cases than they know what to do with. I have seen many cases handles in ways that make a sausage factory look slow.
Most importantly there is no proper communication with the client either due to no time or no want to. For many, their time at legal aid is just part of the process they must go through to get through. PALSA aims to address these issues.