Maitland Home Affairs' scary toilets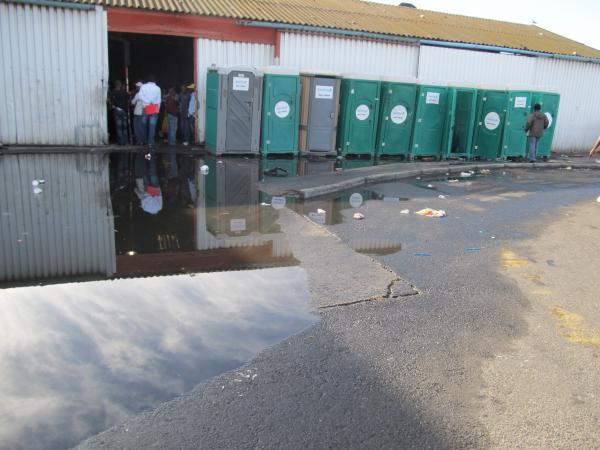 When GroundUp journalists visited Maitland Home Affairs, they noticed clients and their children struggling to hop into the portable toilets to avoid the stagnant water surrounding them.
Some of the children were eating lolly pops while sitting with their legs suspended inside the puddles. One client told us, "The water has been there for two weeks and the only reason we are using these toilets is desperation. We do not have an option." The branch's clients typically spend much of the day waiting to be serviced and so do need to relieve themselves.
The stench of the water outside the toilets is so bad, it is hard to know whether it is sewage or stagnant water.
In response, Department of Home Affairs Communication said, "We sympathise with the members of the public about the inconvenience caused by insufficient drainage of the rainwater outside the Maitland Refugee Reception Centre where some of the removable toilets are located. We are doing all we can to resolve the problem. In the meantime we encourage the public to utilise the toilets that are located at the side of the main building that are not affected by this drainage problem. We have raised this issue with the Department of Public Works, which is responsible for all government buildings, and they are interacting with the landlord to have the problem resolved."
The spokesperson the Department of Public Works for more information, Mr Thami Mchunu said, "We are aware of the situation and we are working on the solution."
© 2016 GroundUp.
This article is licensed under a
Creative Commons Attribution-NoDerivatives 4.0 International License
.