Madala goes back to school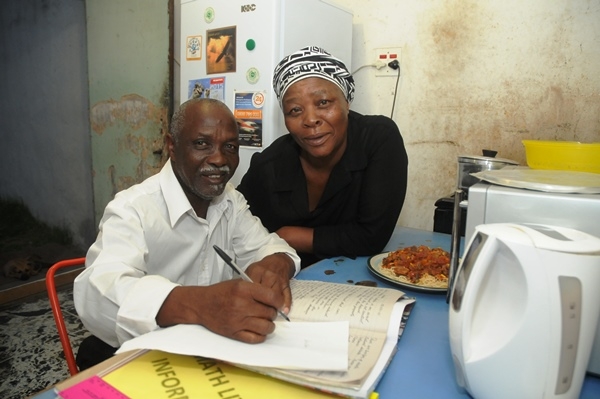 A Gugulethu man is a living testimony to the old adage "you are never too old to learn". At the age of 63 he is back at school to finish his matric after a 46 year absence.
Mboniswa Cuthswa dropped out of school in the Eastern Cape in 1969, when he was in standard six. It was the norm for boys to go and work in the mines in order to provide for their families.
"Parents only expected boys to herd their livestock; that was what was important more than anything," he says. "I had no option but to do what was expected of me. I went to the mines at the tender age of 15. The money I earned at Diepkloof mine was used for my circumcision. At that time you had to pay for your manhood ceremony, unlike today."
He says if there were the opportunities of today back then, he would have grabbed them. "There were no bursaries. You had to pay for your education," says Mcuthswa.
Determined to further his studies, he has now enrolled at the St Francis Centre for Adult Education, where he is studying with children young enough to be his grandchildren. He is the oldest in a class of 17 students. His subjects include Life Orientation, Computer Studies, Mathematics, Economic Management Science, Xhosa and English. GroundUp visited him at maths class.
His teachers describe their beloved student as the country's "Einstein" who was deprived in the past from the opportunity to reach his full potential.
"He outclasses his fellow students despite his age," attested Nandipha Sigonyela, class teacher. "It is easy to notice that he is a product of royal education. He possesses so much general knowledge. Despite his age, he's the brightest in the class."
Cutshwa says, "It was never my intention to quit … If I had my way, I would have completed my Junior Certificate. But circumstances beyond my control forced me to quit. I was keen to take business studies."
He says that if he were to be born again, he would grab the many studying opportunities. Mcutshwa says today's children lack ambition and desire. "Education in these days is so easy, unlike in the past, where we had to dig for the information. There are computers today where you do your research. In the old days, textbooks were the only access to information."
"Today's children start learning at an early age. In the past, we were admitted by measuring our arms! The arm had to go around the neck. Then you were admitted. As a result of that unfair admission policy, I studied later than people my same age, because I am short," he says.
"I study with children the same age as my grandkids. I always wonder why are they only completing their matric now at night school. It is because they did not make use of the opportunities presented to them. Life Orientation is about their daily lives. I fail to understand why they fail such a practical subject," he says.
His wife, Lindiwe Cutshwa, age 55, is a cleaner at Plumstead Primary School. She says she did not approve at first when Mboniswa told her of his plan to go back to school.
"I thought, oh my God, does this old man know what he is letting himself in for," she says. "Not only had I thought he would draw attention to the family by making us a laughing stock, but my biggest worry was that children will tease him, resulting in him dropping out again."
But after seeing his progress, she now wishes she could join him. "If it was not because of late finish at my job, I would be joining him. He is an inspiration to the family and the neighbourhood. He is a living example of the famous saying 'one is never too old to learn'."
© 2016 GroundUp.
This article is licensed under a
Creative Commons Attribution-NoDerivatives 4.0 International License
.