Let's resist the securocrats
State security apparatus is overreaching - dangerously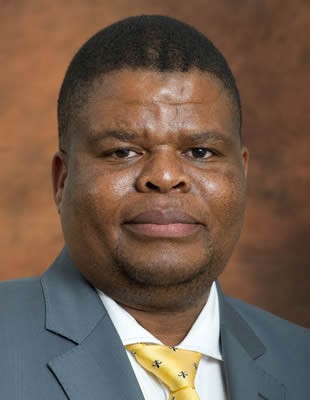 It has been a bad week for State Security Minister David Mahlobo.
On Sunday, an Al-Jazeera investigation into rhino poaching revealed an apparent personal relationship between State Security Minister David Mahlobo and a massage parlour owner linked to rhino horn trafficking. In hidden-camera footage, the man brags of their relationship, and flashes a photo of them together on his phone.
Mahlobo has said a photograph doesn't prove a relationship. But if nothing else, even a coincidental link between the Minister of State Security and a criminal syndicate suggests a startling intelligence failure and security risk – especially as the Hawks have subsequently reported that the massage parlour is already under investigation.
That was all before the start of the working week.
On Monday, at a seminar hosted by the Institute for Security Studies, he spoke on the role of state intelligence in policing student protests. The memorable soundbite was on the nature of his relationship with student leader Mcebo Dlamini, which he contradicted completely two days later before Parliament – raising the question of whether he misled a public seminar or misled Parliament itself. Either way, it raises the question of when the minister's words can be trusted.
The justified outrage over this contradiction should not eclipse the more revealing statements he made at that same seminar, which tell us much more about the problematic role Mahlobo has projected for State Security over the past two years that he has been minister. (These are ably captured in a report on The Daily Vox.)
The first was a repeat of his previous defamatory claim that certain (unnamed) civil society organisations are "fronts" for a "regime change" agenda. In previous statements, he has followed this by threatening to "de-register" organisations that pursue (unnamed) activities that he believes should not be tolerated.
As before, the allegations are offered without evidence or substantiation. No names are named. No charges have been laid before a court of law. As a result, they could apply to nobody or they could apply to anybody. They cannot be verified or refuted. More on this later.
The second claim, a fresh one, is that State Security has a list of Pan African academics whose teachings are believed to be conditioning students into "Afro-pessimism". This admission would mean that the State Security Agency believes that evaluating the ideological content of university curricula is a matter of national security. For how long has this been happening? From where does the intelligence come? How many similar projects is the State Security Agency involved in?
These statements are the latest and most high profile expression of paranoid and accusatory language that has come to infect South Africa's democratic space. When Right2Know launched in 2010 in response to the Secrecy Bill, we said the Bill was part of a broader project of securocratic creep into South Africa's public life. Some must have said it was paranoia or alarmism. Speaking personally, that project has expanded past what I ever imagined.
Viewing dissent as a threat
Too many times have legitimate movements, organisations and causes been labelled as 'threats', and activities of some 'third force'. It is an old formula for suppression, but it has found new cache in recent years. The allegation has been levelled against militant workers' structures, most notably the National Union of Metal Workers of South Africa (NUMSA) and the Association of Mineworkers and Construction Union (AMCU) – the latter of which, incidentally, has exposed an apparent SSA-sponsored project to fund a rival union.
These allegations have also been labelled against popular social movements and campaigns from Abahlali baseMjondolo to the Treatment Action Campaign, and of course against the student movements aligned to #FeesMustFall. The Right2Know Campaign itself has been slandered with this allegation several times, including by a State Security official briefing Parliamentary workers on supposed 'threats' facing the people's Parliament in 2015.
In the Al-Bashir matter, legal NGOs who used court action to force government to comply with its own constitution and commitment to human rights, also reportedly face an "informal probe" by the security cluster.
The previous Public Protector herself was famously accused of being a CIA spy, including by a deputy minister in the security cluster.
It is troubling evidence of a tendency for the leaders of South Africa's security agencies to view certain constitutional activities and pro-democratic activism as 'threats' to 'security' and 'stability'.
Spooks running amok
This language has been accompanied by other forms of suppression that see legitimate movements and causes re-framed as 'threats' to 'stability'. There is growing evidence that intelligence structures monitor and harass activist movements and other civil society formations, as well as investigative journalists. We have also seen the anonymous leaking of bogus intelligence reports to advantage or disadvantage certain political causes and figures, speaking to a sorry history of factionalism of some sectors of the intelligence agencies, who abuse their powers unconstitutionally to tip the scales in democratic politics.
This is why fears of surveillance have become a profound feature of many struggles for human rights across South Africa.
Mahlobo also oversaw State Security's deplorable role in the 'signal jamming' episode of Parliament in February 2015, when the SSA unlawfully used a signal jammer in Parliament's precinct. Since then, the SSA has played a deeply problematic role in continuing to ramp up paranoia and security in Parliament to unprecedented levels.
Many of these outrages have taken place in the 20-month period in which there has been no Inspector General of Intelligence – no watchdog for the public to turn to if the state security structures abuse their power.
Defending the space to organise
There are real threats to people's safety in South Africa where many people would agree that the intelligence agencies have a role to play: these include tackling include gangsterism and organised crime, xenophobic attacks, the worrying trend of political assassinations – and, of course, criminality and brutality in the security structures. There are also potential threats to South Africa's constitutional order, including the phenomenon of state capture and the risk of political manipulation of important state institutions such as the police and security agencies.
It is clear that the situation becomes worse, not better, when intelligence agencies turn their sights on political activists and civic organisations who are working to defend and build democracy on the ground.
In two years, Mahlobo went from being a politician virtually unknown outside of his province to one of the most prominent members of the executive. During that time, he has presided over a dangerous creep of state security into our politics and public life, further eroding trust between government and the broader public. This week David Mahlobo showed conclusively that his words cannot be trusted. Whatever role he may have had in addressing this situation is no longer possible.
He should retire from the levers of the surveillance machine. But whether he stays or goes – the spread of security-statism must be resisted. Citizens must bring the securocrats under control.
Dodgy people are suing us. Please support us by contributing to our legal costs and helping us to publish news that matters.
© 2016 GroundUp.

This article is licensed under a Creative Commons Attribution-NoDerivatives 4.0 International License.
You may republish this article, so long as you credit the authors and GroundUp, and do not change the text. Please include a link back to the original article.