Leaders AWOL after Khayelitsha fire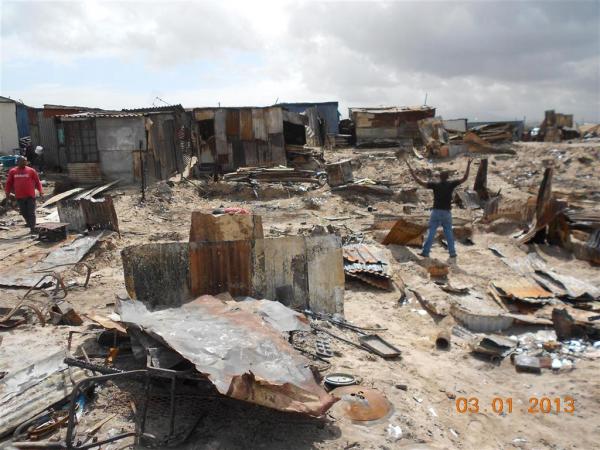 Charred ruins of beds, microwaves, washing machines, fridges, corrugated iron, asbestos and other shack building materials are strewn across the BM section of Khayelitsha.
Some of the toilets built as part of the city's new sanitation plan have also been destroyed. According to the City of Cape Town's Disaster Management, more than 3,000 people lost their homes when a fire ran out of control in the early hours of New Year's Day.
BM Section lies between the N2 and Landsdowne Roads. It is visible from the highway, though the fire damage is mostly out of view from passing cars. Hundreds of people made homeless by the fire are collecting left over scraps or rebuilding their homes.
About a thousand people, according to Wilfred Solomons-Johannes of Disaster Management, are sheltering in the nearby Oliver Tambo Hall where the City is providing blankets and food. Solomons-Johannes says that three people died in the fire, a 35-year-old man, a 27-year-old man and one unidentified person. Linga Kweri is in critical condition in Tygerberg Hospital. However, people in BM section as well as people helping the homeless claim that the body count is higher. I spoke to a Treatment Action Campaign (TAC) volunteer, Andile Madondile, who lives in BM section and has been helping co-ordinate relief. He claimed there were 22 fatalities, including one person whose body he found.
Several people staying in the Oliver Tambo Hall complained to me that they were not getting sufficient baby food for their infants, nor nappies nor clothes. People received two blankets each from the city and rolls and juice. The atmosphere in the hall is bleak. Mavis Mikani sits in a chair holding her baby. When she saw the fire in the early morning, it was far away and she did not think it would reach her shack. But it was smoky and she wanted to get her baby away until the fire was put out, so she took her baby and left the area. But when she came back her shack with everything she had in it was burned down.
I spoke to Khuthala Ndyulo and her 13 year old child Zinandi. Khuthalo and her five children lost all their possessions except the clothes they were wearing. Two women, Patricia and Ntombi showed us around BM section. "There is where the fire started," they explained. This is where one man died," explained Patricia. Ntombi showed us the ruins of her house, where her kitchen was, where the dining room was and the ruined microwave.
We walked passed 26-year-old Nthando Tanjana who was salvaging bits of corrugated iron from what used to be his house that he shared with a friend. He has been living in BM section for 10 years and this is the first time he's encountered a fire this big. "I saved a few clothes, but my television and ID documents are gone. People have lost all their documents including passports. Its fucked up everything", he said.
Several people are trying to rebuild their shacks although I understand they have been asked not to so that the ground can be levelled first. However, for many people waiting for government to act is not an option; they have nowhere to go and do not want to live indefinitely in the Oliver Tambo Hall. There was also little evidence of much official help on the ground when I visited this morning, so it is understandable that people are making decisions in contradiction of government orders.
There are various stories circulating about how the fire was started. The most popular theory currently is that a man left his stove on, which is not something that would normally cause several hundred houses in a middle-class neighbourhood to burn down. But BM is the opposite of a middle-class suburb. Shacks are squished together linked by muddy, uneven windy gravel paths. One of the reasons the fire could not be brought under control was that the fire engines could not get to the burning shacks because there are no proper roads. Even manoeuvring a small car between the shacks is extremely difficult. One volunteer told me that the fire engines also ran out of water and there was nowhere nearby to refill. In neighbourhoods with formal housing every building can be easily reached by road and there are fire hydrants on most streets. This is just not the reality of informal settlements.
Gavin Silber, co-ordinator of the Social Justice Coalition, visited BM Section yesterday. He has cutting words for the province's political leadership. "The premier, Helen Zille, the mayor, Patricia De Lille, the head of the provincial ANC, Marius Fransman and the leader of the opposition in the city, Tony Ehrenreich, as well as the local ward councillor, Monde Nqulwana, should have visited BM Section together and showed political unity at a time like this. Instead the premier and the mayor have been absent and Fransman used his visit to score political points. Khayelitsha is an ANC stronghold in a DA province. Often the councillors blame the city for the township's problems and vice-versa. But both are responsible. There needs to be joint planning and co-operation to work out how to make informal settlements safer, not only in Cape Town but across the country."
In national emergencies you expect leaders to come together and visit the affected people as soon as possible. As of the time of writing, Fransman and Nqulwana as well as Mayoral Committee Member for Safety and Security, JP Smith, have visited the area, but Mayor De Lille and Premier Zille have not according to people staying at Oliver Tambo Hall. I confirmed with the premier's spokesperson that she has not visited and has no plans to at this stage. The mayor's spokesperson responded to an sms I sent him saying he was on leave until 14 January.
Several organisations, including Equal Education and the Social Justice Coaltion, are assisting victims. The TAC is collecting clothing, food and nappies at their Khayelitsha office. People who wish to make donations of these goods can contact Sonia on 078 7037 666 or drop goods off at the TAC Khayelitsha office at Sulani Drive, Town one properties.
© 2016 GroundUp.
This article is licensed under a
Creative Commons Attribution-NoDerivatives 4.0 International License
.