Landmark decision for housing in Cape Town
City Council releases land in Salt River for social housing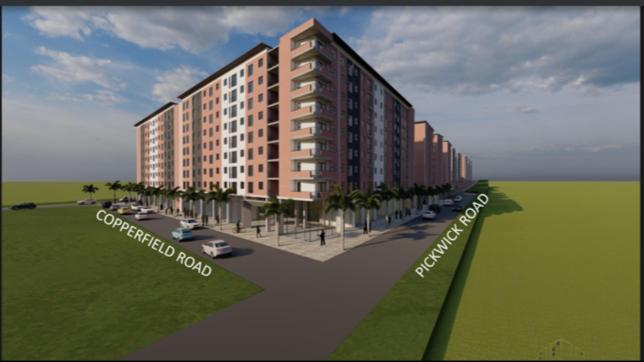 For years housing activists have been calling for social housing for low-income families near Cape Town's city centre.
A major step towards this took place on Thursday when the Cape Town City Council approved the release of land in Salt River for the Pickwick Road social housing project.
"I am truly excited at the prospect of all these parcels of land being turned into beautiful and affordable homes for thousands of Cape Town families," Mayor Geordin Hill-Lewis told the council.
A leading housing activist welcomed the decision but criticised the City for moving too slowly and not keeping pace with a worsening housing crisis.
A key decision to release land in Salt River for the Pickwick Road social housing project was passed in Cape Town's City Council on Thursday.
Unusually, the meeting was held virtually rather than at the Cape Town Civic Centre. The last council meeting was disrupted by the EFF, who protested against the City's handling of the recent taxi strike. That meeting was adjourned and moved to another venue where the EFF and ANC were barred from entering. ANC and EFF members participated in Thursday's meeting.
Addressing the council, Mayor Geordin Hill-Lewis said it was an important day for social housing in Cape Town. "This site comprises 3.2 hectares of very well-located land, just minutes away from the work opportunities of the CBD, and the many major access roads and public transport routes that service the area."
"With its prime location, the Pickwick site has everything we are looking for when it comes to land parcels suited to this kind of social housing development."
According to the City, it will yield about 1,800 residential opportunities, including 840 social housing units and 960 open market units, as part of a mixed-use development.
"This is up from the forecasted 600 social housing units, and we are pleased that our newly adopted land release guidelines are maximising social housing yield, as intended," Hill-Lewis said.
According to the Western Cape government:
"Social Housing is a rental or co-operative housing option for households earning between R1,850 to R22,000 per month. Social Housing projects require management by an institution, which should be an accredited Social Housing Institution. Social Housing projects are developed within areas that contribute to spatial, economic and social development."
Pickwick is the latest land release under the Mayoral Priority Programme. Hill-Lewis said the City would also soon be getting tenants at the 1,000-unit Goodwood Station social housing project.
"I am truly excited at the prospect of all these parcels of land being turned into beautiful and affordable homes for thousands of Cape Town families, and I am grateful that we have such a productive partnership with our social housing companies here in Cape Town," he said.
Councillor Carl Pophaim, Mayco Member for Human Settlements, said the City has over 6,500 social housing units in the pipeline across 50 land parcels city-wide.
Reclaim the City, a housing activist movement, has been campaigning for years for the municipality to make affordable housing available close to the city centre. Bevil Lucas, a leader in the organisation, welcomed Thursday's decision.
"We recognise that there has been progress," said Lucas. But he said more needed to be done. He said the housing crisis was worsening and that authorities are responding "very slowly".
"Our City has the financial resources to do much more than what it is doing," said Lucas.
Letters
Dear Editor
Historically, all over the world, such schemes are short-lived. Prime location housing will escalate in value and within 5 years both rents and values will again be out of reach of low-income people. It is impossible to control private housing prices. House prices dictate the rents charged. The only way is for the whole development to remain in the control of Cape Town's municipality. If it is ever handed over to any non-government organisation, corruption and greed will, yet again, take over and low-paid citizens will lose out again. How will the municipality manage and run this housing development?
Dear Editor
What is the city's plan for this? As good as this initiative or project is, I cannot stop thinking of the what-ifs.
What will happen if I happen to lose my job three or six months down the line after I moved in and started to pay rent? Is there a grace period where they will allow me to stay without paying rent up until I find myself a job, or what will happen?
I hope there won't be any individuals waiting on the wings for this to happen so that they can take over, buy these apartments, and get on with their business as usual.
© 2023 GroundUp. This article is licensed under a Creative Commons Attribution-NoDerivatives 4.0 International License.
You may republish this article, so long as you credit the authors and GroundUp, and do not change the text. Please include a link back to the original article.
We put an invisible pixel in the article so that we can count traffic to republishers. All analytics tools are solely on our servers. We do not give our logs to any third party. Logs are deleted after two weeks. We do not use any IP address identifying information except to count regional traffic. We are solely interested in counting hits, not tracking users. If you republish, please do not delete the invisible pixel.