The land is "unsuitable for habitation" says municipality, but thousands live on it
Sikiti informal settlement in Butterworth, Eastern Cape, was established over 20 years ago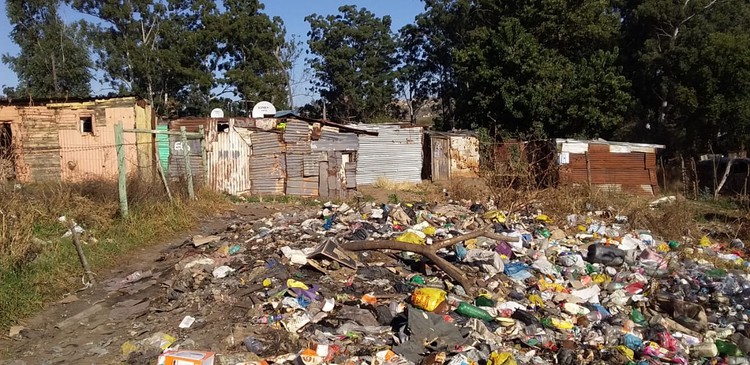 Sikiti informal settlement in Butterworth, Eastern Cape, was established over 20 years ago and it has about 400 households today. Some residents told GroundUp it seems that Mnquma Local Municipality has forgotten them.
The residents have no toilets; they use the bush. Rubbish has not been collected since March. There is no electrification; they use illegal connections. There are about five communal taps, but residents say these run dry, sometimes for months.
Municipality spokesperson Loyiso Mpalantshane said Sikiti is on private property. He said shacks have been built over sewer pipes which are broken and which posed a health hazard. He said the land was "not suitable for human habitation".
Mpalantshane said the municipality has identified an alternative location (3km away) and is sourcing funds to install bulk services, such as water and sanitation, for relocating the Sikiti residents.
When GroundUp visited the area last week, we quickly drew a small crowd. "They only know us during election times," a woman shouted as she approached. "I'm coming from the bushes to relieve myself as I speak."
Madlamini Tyekile moved to Sikiti 21 years ago. She said Transnet workers used to live on the site. The first people to move in were vendors who wanted to be closer to town.
"I don't know how many times we were registered for RDP houses here. Each time when we complain about lack of services, the municipality sends ward committee members to register us for houses, but there won't be any progress after that," she said.
Tyekile said that in 2013, after residents agreed to pay R75 per household for electricity boxes, power was brought. But a fire in 2015, which destroyed hundreds of shacks, put at end to it.
"We rebuilt the shacks on our own. When we asked for electricity, the municipality told us to take the matter to Eskom. Eskom told us that we are not on their map, which came as a surprise to us because they once installed electricity. But they made it very clear that there's nothing they can do for us," said Tyekile.
Residents then illegally connected to the transformer and it burnt out.
"We are now connecting to the lines that are going to extension 7 on the suburb side, meaning they are paying for our electricity. There's nothing we can do because the municipality has forgotten about us," said Tyekile.
"At least some of the municipal officials live there. We are hoping that once they feel the pain of buying more electricity they will assist us in making sure that we get our own electricity," she said.
Another resident Mzukise Goqweni said: "When we have complaints we take them to the ward councillor and ward committees. They take the complaints to the municipality. Always when they come back, their feedback is always promising. But we do not know who lies to whom, because none of the promises ever happen."
Ward councillor Zolani Soyo said he has raised all the community's grievances with the municipality. "The municipality is working on a plan to assist the people and it also frustrates me to see people relieving themselves in bushes," he said.
But Tyekile said residents would only move if there were RDP houses, not to serviced stands or temporary structures.
Dodgy people are suing us. Please support us by contributing to our legal costs and helping us to publish news that matters.