Land occupiers say "we will die fighting for our shacks"
Protest turns violent after High Court eviction order served on Ehlovini shack dwellers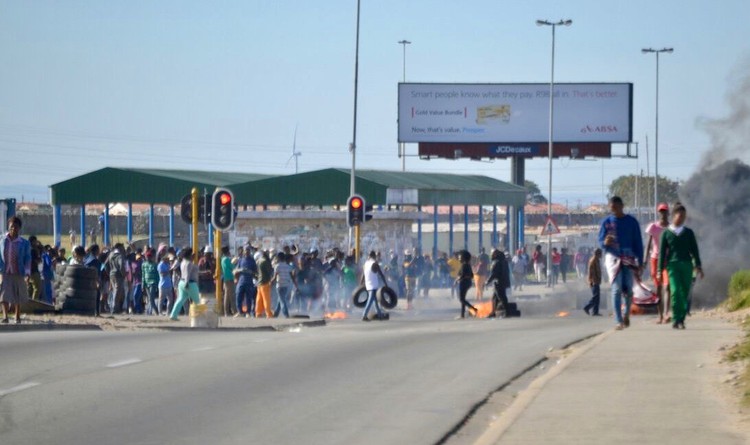 On Tuesday, at least five vehicles were damaged – two of them petrol-bombed – when land occupiers in Motherwell, Port Elizabeth, were served a High Court order to vacate the land in 48 hours.
Hundreds of protesters closed main roads into Motherwell, including the N2 highway. They gathered at Ikamvelihle turn-off, blocking the road to Addo, and they carried sticks and axes. They proceeded up to the Crossroads Taxi Rank, where they were confronted by police.
Thabiso Msuthu, one of the occupiers in Ehlovini, Wells Estate, said: "We have nowhere to go. The Constitution of the country is clear on evictions that no one will be evicted without being given a place to stay."
Msuthu said there were now more than 800 people on the site. "We are just desperate people and there are many elders and disabled people who are living here. Who is going to assist them?"
He said, "We are also not pleased with the timing of the proposed evictions. This is the winter season and it is also raining. These people have been evicted a couple of times before and lost their belongings in the process. The people living here are very poor and they cannot afford to pay rent. The government is being insensitive to its people … We will not be bullied."
"The other issue is that it [the eviction order] is dated 02/02/2017 and yet we are already in June. This eviction order was granted long ago [four months] and somebody was just sitting on it. It is a blatantly flawed process and no one is prepared to explain to us or even to call a meeting and inform the residents about the eviction order," said Msuthu.
Thobela Timakwe has just completed rebuilding her one-room shack in which she stays with her three children. "I know the police will come after 48 hours to evict us. I am preparing for a fight, because this is the only place I call home. I have lost many things before as a result of evictions, but this time we will resist vehemently."
A community leader said: "Some of our members have been on the housing waiting list since 2000."
"The eviction order was not served to the people of Ikhamvelihle, but we know that when they are done with residents of Wells Estate, they will also descend on us. This protest is in preparation for that. We want to show them that we will die fighting for our shacks," he said.
Police spokesperson Captain Andre Beetge said: "A bus belonging to Algoa bus company was also damaged. The protesters also damaged an ambulance in Wells Estate. No arrests or injuries have been reported so far. Cases of malicious damage to property have been opened, including seven for cases of public violence. There were also two cases of damaging infrastructure."
Mayoral Committee Member for Human Settlement Nqaba Bhanga said, "Our position is very clear: that we are going to evict all those occupying land illegally, because we have learnt that it's either they are people who want to jump the queue, or people who had houses before, or business people who want to build their businesses in those areas using poor and vulnerable [people] to front for them. We are not going to accept that, because we have a housing plan where we are going to build houses. We are not going to allow that situation of lawlessness."
He claimed people were brought from outside of the municipality "to do this illegal occupation".
Asked about the outdated court order, he said, "The delivering and execution of the court order is carried out by the office of the sheriff. We are only there to have that land and develop it to the benefit of the residents of this municipality."
Dodgy people are suing us. Please support us by contributing to our legal costs and helping us to publish news that matters.
© 2017 GroundUp.

This article is licensed under a Creative Commons Attribution-NoDerivatives 4.0 International License.
You may republish this article, so long as you credit the authors and GroundUp, and do not change the text. Please include a link back to the original article.