Land occupiers say they won't move from Ramaphosa Square
Ward councillor says land they've occupied was meant for development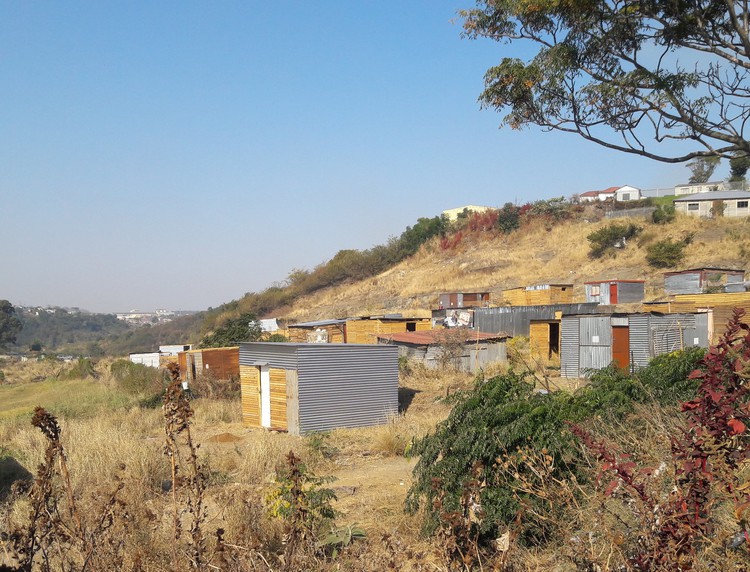 Duncan Village (East London) backyarders are determined to remain on land they have occupied and named Ramaphosa Square. This is despite the ward councilor Peter Kiki saying they will be evicted again from the area.
In February about 50 backyarders came together in Duncan Village and decided to occupy this open piece of land. The president had visited Duncan Village and so they named the land after him. Most of the occupiers were previously renting shacks in the backyards of other people's homes in the area. They took part in the land occupation because of what they claim was their landlords' ill treatment and high rent.
However between March and May this year, their shacks have been demolished three times by the Buffalo City Metropolitan Municipality. On Friday GroundUp visited Ramaphosa Square and saw shacks already standing. The residents are planning to build more this week.
Kiki said, "Those people have illegally invaded the land. I tried to talk to them and convince them that the land has been set for development but they won't listen."
Sinaye Mxokozeli said he lost his job two years ago. "I was unemployed. I had to rent my shack for R350 plus R100 for electricity. Moving here made sense for me. I also have a temporary job at a butchery in town now and I believe things will change for the better."
"We were told this land is for development, and yet we are desperate for a place to stay. We have been evicted twice here and we are not going anywhere," he added.
Xoliswa Booi's shack has been demolished twice by law enforcement. "Last month my shack was demolished while I was still at work," she said. "My furniture was broken. I will have to start from the bottom, on my little cleaner's salary. Where do these people think we will go because we have no other place to go? We have kids. Where will they stay?" asked Booi.
Malibongwe Bukula and Nompumelelo Zigayi are a deaf couple. Their ten-year-old son helped by translating questions to them.
"We came here because of the ill treatment we suffered from our landlord in Ford. Sometimes electricity would be switched off without our knowledge for the whole day. The landlord took advantage of our disability," he said.
"We associated this place Ramaphosa with a new hope and a fresh start for our lives and our two children. We hope we can have electricity and toilets very soon. Yes it gets difficult most of the time because we cannot even communicate well with the other people who stay here."
When we asked Kiki about the municipal development the land was reserved for he said, "This issue will be dealt with by the municipality."
Several attempts to get comment from the Buffalo City municipality have been unsuccessful.