Land occupiers in Grabouw demand services
Residents cross N2 to relieve themselves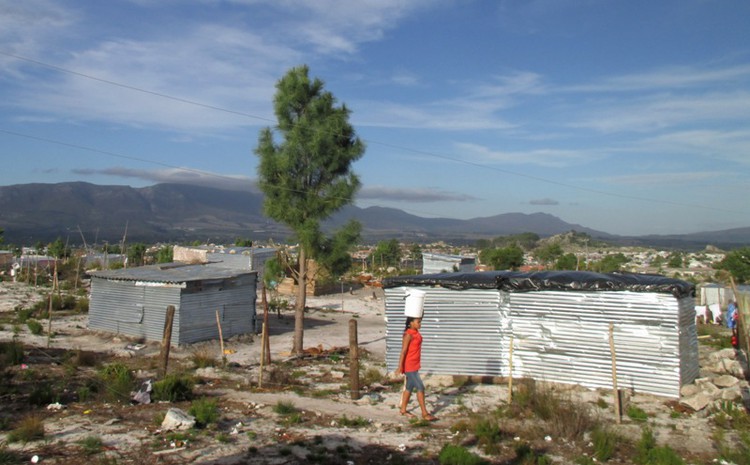 A year after violent protests, residents of the Siyanyanzela informal settlement in Grabouw are asking the Theewaterskloof Municipality to provide them with basic services.
Siyanyanzela means "forcefully," an allusion to the community's land occupation. Last May, residents living in the settlement rose up in protest after numerous shacks were torn down by the Anti-Land Invasion Unit.
Since then, inhabitants have continued to occupy the land. Siyanyanzela has grown to 977 shacks, according to Hugo Geldenhuys, the municipality's spokesperson.
Residents are calling for the municipality to provide them with running water, toilets and electricity. They have fashioned makeshift water and electrical connections.
Resident Nombeko Meyana said that the illegal electricity connections have helped reduce usage of paraffin stoves and candles, as well as sporadic shack fires. Despite this, she said that these connections have become unreliable and dangerous.
Another resident, Neziswa Xuka, said that the lack of toilets makes women in the area vulnerable to rape as they have to walk across the N2 and into bushes to relieve themselves.
Open spaces are strewn with uncollected household rubbish because there is no garbage removal service.
The municipality has denied the residents' requests for services, because the settlement is built illegally on Department of Transport and Public Works' land.
"Land grabs concern [the municipality] because any solution for the housing crisis must be in context and integrated with the medium and long term housing plans in Grabouw," Geldenhuys said. "It must also take into consideration the long existing housing register as well as the interest of people who have for years, been waiting orderly and patiently for housing solutions."
Frederick Johnson, of the National Department of Transport and Public Works, reiterated government disapproval of land occupations. "We cannot accept it because that is the government land, but we want to settle the matter out of court," Johnson said.
© 2017 GroundUp.

This article is licensed under a Creative Commons Attribution-NoDerivatives 4.0 International License.
You may republish this article, so long as you credit the authors and GroundUp, and do not change the text. Please include a link back to the original article.